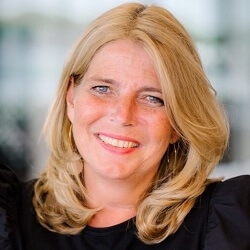 Jacqueline Touw New Chief People & Organisation Officer de Volksbank
13-07-2022 De Volksbank announced on 13 July that Jacqueline Touw will join the executive committee as of 1 October 2022. She is appointed as Chief People & Organisation Officer (CPOO).
Jacqueline Touw has been Chief Human Resources Officer at Sligro Food Group since 2019. De Volksbank indicates she has extensive experience in strategic and digital change processes at international organizations in various sectors. For example, she is currently supervising a thorough digital transformation at Sligro Food Group and at Essent she was also ultimately responsible for HR during a major change process. Touw has also been active in various strategic HR positions at DSM. She also has banking experience, which she gained at Van Lanschot Bankiers N.V.
Gerard van Olphen, Chairman of the Supervisory Board of de Volksbank: 'The supervisory board is pleased with the appointment of Jacqueline Touw for the position of CPOO in the executive committee of de Volksbank. I am convinced that with her expertise in the field of business and culture transformation she will make a valuable contribution to the successful realization of the strategy.'
CEO Martijn Gribnau: 'I am looking forward to the arrival of Jacqueline Touw and look forward to working with her. With her appointment, the executive committee is now complete. I am convinced that with her experience in and vision on HR, she will play a crucial role in the change process we are in to make our organization more effective. The teams and our employees have a key role to play in this.'