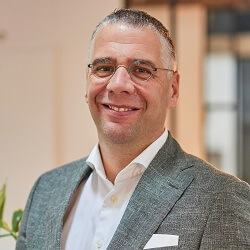 New director of Sales & Operations Jumbo
16-05-2023 Anrico Maat will assume the role of director of Sales & Operations at Jumbo from June 1. He succeeds Cees van Vliet, who will be leaving the company.
Jumbo has announced that Anrico Maat will be responsible for the day-to-day operations of the approximately seven hundred Jumbo supermarkets in the Netherlands. He is co-owner of the Maripaan Group, which with more than 2,300 employees and eighteen Jumbo stores, as well as a La Place restaurant, is a prominent player in food retail and hospitality in Groningen and Friesland.
Ton van Veen, CEO of Jumbo, is pleased with Maat's arrival: "As a Jumbo franchisee, I have known Anrico for a long time, also because of his long-standing role as chairman of the Jumbo Entrepreneurs' Association. He is a decisive entrepreneur at heart and, together with his business partner Paul Papo, has built up a wonderful company step by step over more than twenty years. Anrico brings a lot of knowledge and experience, has a nose for the wishes and needs of customers and can translate these like no other into our stores throughout the Netherlands. I am delighted that he is coming to strengthen our management team."
Ton van Veen on the departure of Cees van Vliet: "With all his knowledge and experience, Cees has translated the strategy of and developments within our family business in recent years into daily implementation in the stores. He proved to be a retail man at heart with a keen eye for processes and optimization. We are grateful to him for his inexhaustible commitment and wish him every success both professionally and privately."