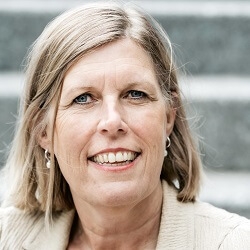 COO Ans Rietstra leaves ProRail
02-11-2022 On 1 November it was announced that Chief Operational Officer Ans Rietstra will leave ProRail. She has already resigned from her duties and responsibilities.
Ans Rietstra has been employed by ProRail for 6 years, of which she has been on the board of directors for three and a half years. She will start on December 15, 2022 in her new position as team chief of the criminal investigation cooperation team in the Caribbean. Rietstra looks back with gratitude on the past years, is ready for a new challenge and is starting her new position with great energy.
Hans Alders, chairman of the supervisory board at ProRail, congratulates Rietstra on her new position with the police: 'We thank her for her efforts in recent years and wish her every success with the great step she is about to take.' CEO John Voppen adds : 'When I look at the past six years, it is unbelievable how much we have been through and achieved together. I congratulated Ans on her wonderful appointment to the police and wish her all the best there.'