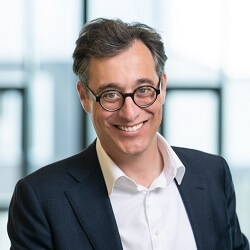 Cas Ceulen New Chief Health Officer Coöperatie VGZ
26-08-2022 Coöperatie VGZ announced on 24 August that Cas Ceulen has been appointed as chief health officer with immediate effect.
Cas Ceulen has held the position of Chief Health Officer for several months on an interim basis, succeeding Marjo Vissers, who was appointed CEO. Ceulen has been working at Coöperatie VGZ since 2004, most recently as a Cluster Leader in the Customer & Brand Partners division. His appointment has been approved by De Nederlandsche Bank and is effective immediately.
Marjo Vissers: 'I am very pleased with the appointment of Cas Ceulen as Chief Health Officer. As my replacement, he has proven himself as an experienced, result-oriented and connecting leader. Cas has an eye for the interests and ideas of healthcare professionals and other important stakeholders, as well as our employees and members. His experience in healthcare and in the field of stakeholder management in the B2B context is of great value to us. I see that he, together with the experienced care management team, contributes to our joint mission: a healthier Netherlands and future-proof care for everyone.'
With the appointment of Cas Ceulen, the executive committee of Coöperatie VGZ now consists of four members: Cas Ceulen (Chief Health Officer), Frank Elion (Chief Member Officer), Jojanneke Goedings (Chief People & Sustainability Officer) and Mirjam Verhoeven (Chief Transformation & Information Officer ).