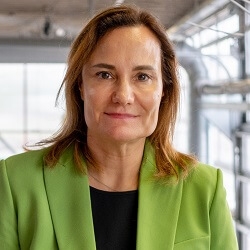 Gillian Tans President at VanMoof
03-05-2022 VanMoof announced on May 3 that Gillian Tans will take up the new role of President within the e-bike company. She will start in her new position immediately.
Gillian Tans was previously CEO of Booking.com from 2016 to 2019. Since her start at Booking.com in 2002, she has seen the company grow from start-up to the group it is today. In 2019, she stepped down from her position as CEO to become chairman, a position she held until 2021.
As President, Tans will lead the company's management team and oversee business operations to further solidify VanMoof's position. Founders Taco and Ties Carlier will continue to act as co-CEOs and will focus on the long-term strategy.
Taco and Ties Carlier have been working closely alongside Gillian Tans for a long time, since she first invested in VanMoof several years ago. It is stated that over the years the brothers have developed a deep respect for Tans' considerable managerial and executive expertise. They are introducing the role of president as VanMoof is entering a new growth phase. Tans' experience combines years at the highest executive level, building world-class teams and scaling global operations – all factors that will be crucial in the next stage of VanMoof's growth, VanMoof said in a press release.