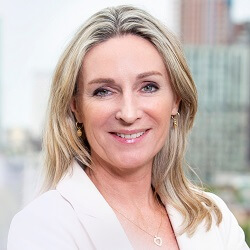 Leonique van Houwelingen new CEO Aon Netherlands
11-07-2022 Aon announced on 11 July that Leonique van Houwelingen will be appointed as CEO of Aon Netherlands with effect from 1 November 2022.
Leonique van Houwelingen has held various managerial roles in financial services. Her most recent positions were CEO of BNY Mellon's European Bank in Brussels and EMEA Head of Strategic Growth & Regional Client Coverage Asset Servicing and Digital at BNY Mellon. Her appointment is subject to regulatory approval.

'We are very pleased with the arrival of Leonique van Houwelingen as the new CEO of Aon in the Netherlands and as a member of the EMEA executive team. Leonique is an experienced and strategic leader who excels at driving growth and developing high performing teams. Her dedication to customers, international experience, interest in social issues and innovation fit perfectly with our aim to be a more customer-oriented, inclusive, sustainable and financially sound company. We have ambitious plans for Aon Netherlands and I am confident that Leonique is the right leader to help us achieve this,' said Eduardo Dávila, CEO of Aon EMEA.
'I look forward to using all my energy and passion to make a meaningful impact for Aon's customers, colleagues and society. The world around us is changing at a rapid pace. It is more important than ever to embrace innovation to ensure that Aon's services meet the current and future needs of customers while investing in its employees. Diverse and inclusive teams strengthen Aon and are also one of the ways in which Aon makes a positive contribution to the community,' says Leonique van Houwelingen.