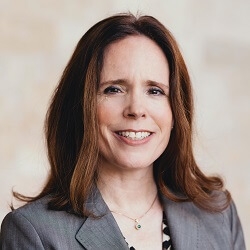 Ahold Delhaize CFO Natalie Knight Steps Down
11-01-2023 On January 10, it was announced that Chief Financial Officer Natalie Knight is leaving Ahold Delhaize. The supermarket group says Natalie Knight is pursuing career opportunities in America. During her six-month notice period, Ahold Delhaize will search for a suitable successor.
Natalie Knight has been CFO of Ahold Delhaize since 2020. CEO Frans Muller commented on her departure: "Although her time at Ahold Delhaize has been short, I respect Natalie's decision to move her family back to the United States after more than 25 years in Europe. During her time here, Natalie has had a positive impact on our business: she has ensured better alignment within the finance function, nurtured our Save for our Customers program and taken financial reporting and communication to the next level. Her passion for sustainability and diversity has helped these issues permeate throughout our company. I look forward to our continued collaboration in the coming months as we continue to implement our Leading Together strategy."
Natalie Knight calls it an honor to have had the opportunity to work for Ahold Delhaize, during the COVID-19 pandemic in particular. She says she is proud to have participated in the results that ensured the company's financial stability, promoted e-commerce profitability and increased forward-looking investments such as sustainability. She also says she looks forward to continuing to work with Frans Muller and the team to ensure a smooth transition and help identify her successor.