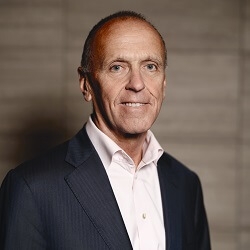 Peter Oosterveer leaves Arcadis, Alan Brookes new CEO
27-10-2022 Arcadis announced on 27 October that Peter Oosterveer will resign from his position in 2023. Alan Brookes is nominated as new CEO.
Peter Oosterveer has been CEO of Arcadis since 2017 and will step down halfway through his second term. He says he is pleased to be able to spend more time with his family and pursue other interests.
The Supervisory Board nominates Alan Brookes as his successor and new CEO. Brookes has been with Arcadis since 2011, following the acquisition of EC Harris. He has held the position of COO since 2020.
Alan Brookes will be nominated at the general meeting of shareholders in May 2023. Over the next six months, Oosterveer and Brookes will work on a seamless transition of leadership.
Michiel Lap, Chair of the Supervisory Board comments on Brookes' nomination: 'Alan Brookes has significant experience in running international design and consultancy businesses and has been successful in transforming the company from a regional to a global operating structure. Alan's vision, drive, people and performance focus make him the right person to guide Arcadis through the next chapter of profitable growth and success. We have confidence in a smooth leadership transition, whilst ensuring the successful integration of our recent acquisitions.'

He also thanks Peter Oosterveer for his leadership: 'We owe Peter our gratitude for the way he has transformed Arcadis into a leading integrated global design and consultancy player. Under his leadership, Arcadis has significantly improved its financial and non-financial results. Peter has united the company around a clear strategy of making impact for clients on some of the most important and pressing challenges of our time such as the energy transition and making net zero a reality for our clients. We wish Peter well and thank him for his important contributions to the company.'