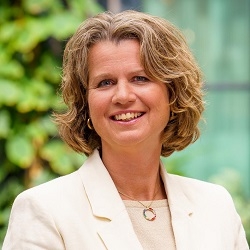 Petra de Ruiter New CEO of Holland Casino
09-05-2022 Holland Casino announced on 9 May that Petra de Ruiter has been appointed as new CEO. She starts in her new role on September 1.
Petra de Ruiter has worked in various roles at Air France-KLM and Transavia since 1998. She is currently coo at Transavia and in that capacity responsible for the entire day-to-day operation, including safety at the company, a position she has held since 2016. In addition, she has been a supervisory director at transport company GVB since 2021.
She will take up her new role on 1 September and will succeed as new CEO of Holland Casino Erwin van Lambaart, who took up another position at Casinos Austria last month. Her appointment is still subject to review and a positive decision by De Nederlandsche Bank.
"Hospitality is in the DNA of all employees at Holland Casino, a crucial and distinguishing value, which is also vital in my current job. Whether online or offline, every guest simply wants to feel seen, heard and valued. Holland Casino is a cordial, responsible and leading entertainment company with 3,500 employees who want the best for all guests every day. That is why Holland Casino offers its guests games of chance in a safe and responsible environment. In the coming period I look forward to getting to know many new colleagues from the branches and the online casino personally. After all, they are the face of our company. I am grateful to Transavia and all colleagues for the past years. At the same time, I am also very much looking forward to this new role and this great challenge", says Petra de Ruiter.
Willem Bröcker, chairman of the supervisory board: "Petra de Ruiter's experience and knowledge in the specific combination of guest experience and operational excellence are an excellent match for the person we were looking for after the departure of the previous CEO Erwin van Lambaart. With our 14 offices and now also online, we work in a highly regulated sector and operate in a complex stakeholder field. Proven expertise is of great importance there. Holland Casino is in a strong recovery period after the past corona years. The restructuring that started in 2020 and the continuous social and political attention for the gambling sector requires decisiveness and dictates that we take our responsibility every day. The Supervisory Board is confident that with the appointment of Petra de Ruiter, these lines will be successfully continued."
As of 1 September, the executive board of Holland Casino consists of Petra de Ruiter, Ruud Bergervoet (chief financial officer) and Malinda Miener (chief compliance officer).