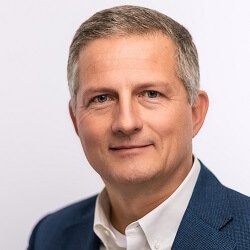 Pieter Schoehuijs Non-Executive Director at Centric Holding
16-02-2023 Centric has announced that Pieter Schoehuijs is joining the Board as Non-Executive Director.
Pieter Schoehuijs has broad experience in the field of technological transformation processes and was CIO at e.g. Glencore Algriculture, Capgemini and AkzoNobel. He is currently a Supervisory Board Member at To-Increase and an advisor at Advent International and MareVisie Project Management. From 2018-2021, he was Chairman of the Supervisory Board at Geldmaat.
Peter Schoehuijs joins the Board, which consists of Peter Wakkie (CEO) and Willem Mijer (Non-Executive Chairman of the Board), both appointed in November 2022. "I am excited about what Centric brings to society. The company is financially healthy and has an excellent reputation in the market based on solid services. I look forward to being able to contribute to that."

Willem Meijer, Chairman of the Board: "We are very pleased to have Pieter join the Board. His knowledge and experience fit the new phase we are entering as a company. In the coming period we will focus on further developing the IT strategy, innovation and further expanding our portfolio."