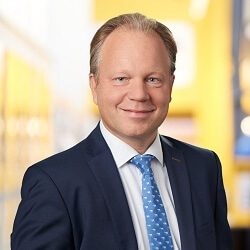 Ton van Veen takes office as CEO a.i. Jumbo
04-10-2022 Jumbo announced on 4 October that Ton van Veen will temporarily succeed CEO Frits van Eerd.
Ton van Veen was CFO at Jumbo from 2004 to this spring, and is currently still a member of the Supervisory Board. He replaces CEO Frits van Eerd on an interim basis, who temporarily stepped down a week and a half ago as a result of his suspicion in a major money laundering investigation.

As delegated supervisory director, Colette Cloosterman-van Eerd will fulfill a connecting role between the organisation, the supervisory board and the family. She will also temporarily become Vice-Chairman of the Supervisory Board.
Chairman of the Supervisory Board, Karel van Eerd, has the following to say about the situation: 'The recent developments surrounding Frits have affected us. Naturally, he will receive all the support and respect for the difficult decision to temporarily withdraw from the Jumbo management. We are confident that Ton, together with the management, will form a strong and close team and will lead our family business in a stable manner, especially in these socially and economically challenging times. We also attach great importance to the role of Colette, who forms the important link between the organisation, the Supervisory Board and our family.'