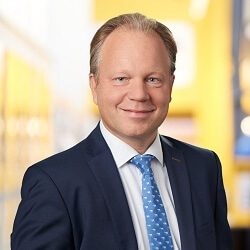 Jumbo appoints new CEO and Chairman
07-03-2023 Jumbo has announced the appointment of Ton van Veen as CEO and Colette Cloosterman- van Eerd as Chairman of the Supervisory Board.
Ton van Veen has been with Jumbo since 2004 and has led the management team since October 2022. He succeeds Frits van Eerd, who temporarily stepped down since September 2022 due to being a part of a money laundering investigation by the Public Prosecutor's Office. Frits van Eerd has come to the decision that, even after a positive conclusion, he does not want to return as CEO of Jumbo.
Colette Cloosterman- van Eerd will assume the position of Chief Executive Officer, succeeding her father, Karel van Eerd, who passed away last December. "We are delighted that Ton wants to succeed Frits as CEO. Ton offers Jumbo the continuity and stability it needs in these economically challenging times. He knows our family values like no other and understands how Jumbo was originally intended. We are confident that he can lead our family business into a new generation. I look forward to working with him in our new roles in the coming years," said Colette Cloosterman- van Eerd.

Ton van Veen: "Jumbo is a great family business with a unique culture based on entrepreneurship. Frits van Eerd has played a very important role in the growth and success of Jumbo in all the years he has been CEO. I would like to thank him, Colette and Monique for the trust they have placed in me. I look forward to continuing to build on Jumbo's success, in close involvement with the Van Eerd family and together with the management team, all colleagues and independent entrepreneurs."