APG CEO Annette Mosman Opts for Stakeholder-Focused Leadership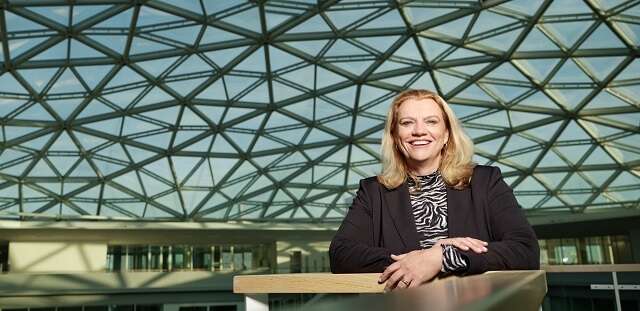 As the new CEO of pension provider APG, Annette Mosman walked a staggering 200km with an array of stakeholders to find out what is happening both within and outside of the organization. Listening is at the core of the new leadership style advocated by the Top Woman of the Year 2022 and Supervisory Board member of Ajax. "For some people it takes some getting used to that as a leader, you do not just stand on a rock and dictate which direction the organization is going to take."
The interview takes place on the day that soccer clubs Ajax and Liverpool face each other. It is an important match, to determine the club to continue in the Champions League (Ajax ends up losing the game 0-3). As one of Ajax's Supervisory Board members, does Annette Mosman sit in the stands at times like these? You bet. "When Ajax plays at home, I go to every match. I occasionally go to their away matches, if my job permits." Is she an avid supporter? She laughs, "Oh yes. I am a handball player myself, so I find soccer sometimes quite slow."
In conversation with Xavier Baeten, Professor of Reward Management and Sustainability at Vlerick Business School, Mosman immediately stresses that cheering the club on in the stadium is in stark contrast to her role in the boardroom of AFC Ajax NV: "For me, two things come together at Ajax: My passion for sport and my passion for management and supervision. You have to keep those two things separate. I love watching a game on the pitch, hearing the supporters' chants and experiencing their pride in the club. But Supervisory Board members play a different role – one that involves supervising a listed company, a global brand, where long-term value creation and continuity are just as important as in other companies."
A bold leader
Those are also key words at APG, where Mosman has now served as CEO for 18 months. She previously spent three years as CFRO of the Netherlands' largest pension provider. APG handles pension administration and manages invested assets of approximately €523 billion (as of the end of September) for ABP and various other funds with a total of 4.8 million participants. These are challenging times, as the sector is facing the largest system change in Dutch pensions history, rising inflation and a looming recession. Furthermore, as a social organization and a major investor, APG is also affected by the increasingly fierce debate in society on matters such as sustainability and social equality. Mosman tackles those challenges with a bold, authentic leadership style, according to the jury that voted her Top Woman of the Year 2022 this fall.

Social norms and values are becoming increasingly important factors in managing companies. The role of the CEO is turning into that of a Chief Ethics Officer. How do you view your role as a leader?
"I firmly believe in the new collectivity: A Netherlands with room for individual and collective interests. A sustainable society in which everyone matters and where we make decisions that realize long-term value for our parents, ourselves and our children. Not just in the world of pensions, but more broadly in our society, which currently faces major issues such as the climate crisis, social inequality and healthcare provision in an aging society. In recent decades, the Netherlands has lost much of that collectivity and solidarity. To mark ABP's 100th anniversary, we conducted research into the core values of the Dutch population over the past century. Those values included entrepreneurship, individuality and perseverance and have led our country to great economic prosperity. But now that we are nearing the limits of our growth in ecological terms, people are finding that we need to face social challenges with other qualities and core values such as collectivity and solidarity.
Over the next 100 years, we will need to focus on caring for each other and the world. The social issues are so huge that we can only solve them together. This calls for a new leadership style: CEOs with a moral compass who do not profess to be all-knowing but are willing to listen sincerely and carefully to what is happening within their company and in society as a whole, to their employees and to external stakeholders. That will occasionally result in a decision that you had not thought possible prior to discussions with those stakeholders."

How do you shape that new, stakeholder-focused leadership style in practice?
"When I was appointed CEO of APG, I deliberately decided not to draw up a plan of action during the traditional first 100 days. Instead, I started walking a route between our offices in Amsterdam and Heerlen in Limburg. I walked each route with a different stakeholder: with employees and pension plan members such as police officers and teachers as well as Chairs of employers' associations and trade unions, the social partners. Those meetings were an opportunity to feed off the wisdom of others. I walked with Karien van Gennip, CEO of health insurer VGZ at the time. The healthcare sector has experienced the transition to a new system before. I wanted to know what the pension world could learn from that. Now that she is the Minister of Social Affairs and Employment, we have reconnected to promote diversity and inclusion. My fellow director Ronald Wuijster, who is responsible for asset management on behalf of our pension fund clients, also has meaningful encounters, most recently for example with the director of Greenpeace. We also collect a lot of internal and external data to be used as input for our decision-making."

As the CEO, how do you implement that new leadership style within the organization?
"I have a different leadership style and I am a woman as well. "For some people it takes some getting used to having a leader that does not just stand on a rock and dictate which direction the organization is going to take. People want clarity – it is in their nature. At the end of the day, I too prefer to have a to-do list: a clear direction of what needs to be done. But the world is not that simple anymore. Consider the transition to the new pension system. We need to build a new 'factory' with APG: A different organization with new processes and systems. As CEO, I know where we need to go, but I am not mapping out the route yet – it is still open.
I ask our 3,000 employees: Are you going to join me on this journey? Along the way, I keep my eyes and ears open as I want to hear and understand what is happening on the shop floor. To do that, you have to establish a culture where people are empowered enough to say what concerns them. That can only happen if the CEO is approachable and able to convince people that the new leadership style is going to work. That is why I am so delighted with the jury report and my Top Woman of the Year award. It confirms to other companies the importance of stakeholder-oriented leadership."

You have attached a mission to that title: To encourage women to become more financially independent.
"I am working hard to promote the position of women, because women are still too often disadvantaged when it comes to income and therefore retirement income. In the Netherlands, 70% of women still work part time. However understandable that is, it does affect their financial independence. I have three grown-up children, but I have always enjoyed working full time. It gave me the opportunity to develop and the freedom and independence to make my own decisions.
I want to show other women that it is both enjoyable and rewarding to continue working when they have children. In fact, their career prospects are limited if they stop working, and as a result, there is a huge pension gap between men and women in the Netherlands. On average, women in the Netherlands receive 40% less pension than men. That is why I support ABP's Reality Check initiative. Its aim is to make women, in particular, aware of their own financial situation both now and in the future, and the impact of part-time work on their financial independence."

That gender pension gap comes on top of the existing pay gaps in business and society. The gender pay gap is a familiar problem, but there is also increasing awareness of the ethnic pay gap. How does APG deal with income inequality?
"Two years ago, in collaboration with Erasmus University Rotterdam, we investigated whether there were differences in pay between men and women within our organization. It turned out that there was a pay gap of 2.2%, which we managed to close straight away by giving 125 women a salary increase. But that was just the beginning, as we went in search of the reason behind the pay gap. The investigation showed that women are promoted less often and less quickly than men. They are less likely to be assertive when a career opportunity comes up, with the result that their salaries increase at a slower rate.
You have to ask yourself: What do those differences say about our culture and how can we change it to achieve fair and equal pay? Again, this starts with internal dialogue, listening to each other and actually acting on the results. For example, we started giving unconscious bias training to managers and adjusted the HR cycle. Managers now have to ask employees questions like: What is stopping you from growing, what do you want to achieve and how can I help you? They do sometimes find this awkward. In turn, all employees completed a scenario analysis: How do you envisage your future within or outside of APG? Some people found that quite confronting, but it forces both men and women to reflect on their own development and how they can expand their skills."

As a major investor, APG can realize social impact. How do you help improve sustainability?
"First of all, the most important social impact we can achieve is through our role as an implementing organization. Our pension system ensures that people will have a good income later in life too. The Netherlands has the lowest poverty rate among the elderly compared with other Western countries such as the UK, Germany and the US. We want to realize maximum pension value for our pension fund clients and participants, but we also want to contribute to the livability of the world they will spend their retirement in. We, in collaboration with our pension fund clients, are increasingly deploying the investment portfolio for that purpose, which is connected to the United Nations' Sustainable Development Goals."

What dilemmas do you face? What decisions does APG make when it comes to weighing up return against sustainability, for example?
"Our pension fund clients draw up an investment policy. We bring in external parties, provide advice, identify implications and implement the policy together with our top investors. In doing so, we take an integral view of investments from four different perspectives: Return, cost, risk and sustainability. We base our investment decisions on that analysis. Return is important, of course, as our funds have to be able to pay out pensions to their participants at a later date. We cannot invest in sustainable initiatives that do not yield any return. But we also explore the risk – companies that do not participate in the energy transition, for example, will eventually decrease in value or become nonviable. On the other hand, sustainable companies are yielding increasing returns. In fact, our sustainability portfolio outperformed the regular portfolio in the first half of the year. There is a business case for responsible investments."

As a major investor, does APG exclude non-sustainable companies, or do you try to influence their ESG policies?
"Inclusion and exclusion forms part of the investment policy of the pension funds we serve. Using that policy as a guideline, we exclude certain sectors [such as tobacco, nuclear weapons and cluster munitions, ed.]. But, in principle, we use our influence as an investor to encourage sustainability transitions within the companies we invest in through engagement. We enter into dialogue about safeguarding the environment and human rights, for example. By excluding companies, you no longer have that influence."

What do you make of ABP's decision to stop investing in fossil energy?
"APG supports that decision. In close consultation with ABP, we will be investing more specifically in renewable energy. For example, we recently invested in a large solar farm in the US on behalf of ABP. We want to make more investments like this across Europe and the Netherlands. We will also use our shareholdership to encourage large energy consumers to increase their sustainability. To base decisions on in-depth social insights and data, APG has set up a Social Alignment team to rather engage in dialogue with stakeholders, including NGOs, to hear their views and explain what we are doing in terms of sustainability."

Social issues also come into play within soccer. As a Supervisory Board member in the soccer world, how do you feel about the uproar when two club captains chose not to wear the KNVB soccer association's rainbow armband?
"The discussion focused on the two men who did not want to wear the armband. That then escalated and was amplified by the media, but in the Netherlands, we need to have a much more fundamental discussion. This has a broader importance – definitely not just in sports. The Netherlands is changing, and our society faces major issues. We need to start the discussion at an early stage and explore how we can move forward together. Only when we explore solutions together, can we find perspective within our polarized society."

This interview was published in Management Scope 10 2022.
This article was last changed on 23-11-2022