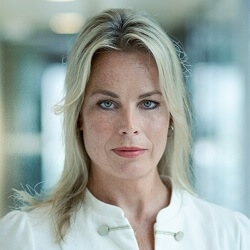 Cindy Kroon Appointed as CCO Vattenfall Netherlands
14-07-2022 Vattenfall Netherlands announced on 14 July that Cindy Kroon has been appointed as chief commercial officer (cco) and will join the executive board on 1 August 2022.
Cindy Kroon will combine her new role with her current responsibilities as director of clients of Vattenfall Netherlands. Her responsibility as CCO includes the focus areas customers & solutions, markets, real estate & facility management and network solutions. In addition to her new role as CCO, Kroon is also Vice President Customers & Solutions Netherlands at Vattenfall.
Cindy Kroon on her new position: 'We are in unprecedented troubled times in the energy sector; this has a major impact on our customers and puts a lot of pressure on our organization. As a company, we play a crucial role in affordability and security of supply for our customers, and we are in constant dialogue about this with the world around us. I look forward to strengthening Vattenfall Nederland's executive board alongside Martijn and Alexander and further supporting Vattenfall's steps towards a fossil-free life within one generation.'
'The energy market has developed strongly in recent years, with an increasingly complex field of work in areas such as regulation, competition and market dynamics. The current, ongoing pressure on the energy market due to the covid pandemic and the crisis in Ukraine underlines the importance for us of an additional role on the executive board of Vattenfall in the Netherlands, with the focus on our sales activities,' explains Martijn Hagens.
'I am therefore pleased that Cindy is willing to take on this role. Vattenfall, and before that Nuon, are in Cindy's DNA, with her almost twenty years of experience. She successfully guided our company through the name change to Vattenfall and knows better than anyone what is going on among our customers. Moreover, with her proven management experience and network, she complements the executive board perfectly.'