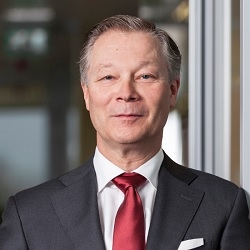 Herman Dijkhuizen new Supervisory Board Member KPN
13-02-2023 KPN nominates Herman Dijkhuizen as a new Member of its Supervisory Board. His appointment will take effect following the resolution at the Annual General Meeting of Shareholders on July 1.
Herman Dijkhuizen has been CFO at NIBC since 2013 and Vice Chairman of the Executive Board since 2017. From 1979 to 2013, he served in various positions at KPMG Netherlands. Herman Dijkhuizen is also a Supervisory Board Member of NS Group, WWF Netherlands and Nationaal Fonds 4 en 5 Mei. Previously, he was also a Board and Committee Member of several organizations such as Stichting Steun Emma, Unicef and StichtingVU.
Herman Dijkhuizen will succeed Catherine Guillouard who will step down from KPN's Supervisory Board.