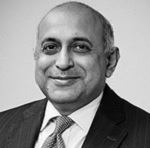 Karl Guha new Chairman of the Supervisory Board ING Group
06-03-2023 ING announced the nomination of Karl Guha as a Supervisory Board member, with the intention of appointing him as Chairman of the Supervisory Board.
Karl Guha has more than 30 years of experience in the international banking industry. He was CEO of Van Lanschot Kempen from 2013 to 2021. Before that, he was group Chief Risk Officer at Unicredit and held various positions at ABN Amro, where he started his career in 1989.
Guha will be nominated at the General Meeting of Shareholders on April 24, 2023. The intention is to appoint him as Chairman of the Supervisory Board as of July 1, 2023, when Hans Wijers will step down. Guha's proposed appointment has already been approved by the European Central Bank.

Hans Wijers said the following about the proposed appointment: "I am very pleased that in Karl Guha we have found a new Chairman with a long and outstanding career in the financial sector, spanning multiple phases and covering various aspects. I am confident that together with him our Supervisory Board will continue to guide ING in delivering sustainable value for our customers and society as a whole."