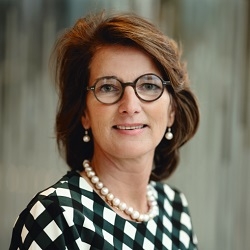 Marguerite Soeteman-Reijnen leaves Aon 
09-03-2023 Aon has announced that Marguerite Soeteman-Reijnen, Chairman of the Executive Board, will be leaving the company on April 1. She has worked for Aon for 33 years.
Marguerite Soeteman-Reijnen has held various executive positions during her time at Aon, including Global Chief Marketing Officer for Aon Inpoint. She also holds various non-executive and ambassador positions. For example, she is Chairman of the Supervisory Board at Kelp Blue, vice-Chairman of the Supervisory Board at law firm NautaDutilh, member of Alumni Board Harvard Business School, member of the Supervisory Board of Royal Defense Museum and member of the Executive Board of the American Chamber of Commerce in the Netherlands.
Eric Andersen, President of Aon said, "On behalf of her colleagues, I would like to thank Marguerite for 33 years of service to our company and the many contributions she has made to our business, corporate governance and inclusion & diversity initiatives. We wish her all the best in the next chapter of her career. We will celebrate her contributions to Aon at a farewell symposium later this year."
Marguerite Soeteman-Reijnen says of her departure, "It has been an honor to serve Aon for 33 years. During my journey from intern to Chairman of Aon Holdings B.V., I have had the privilege of working with many talented people from diverse backgrounds. They were all as passionate as I was about Aon's goal of ensuring clients are better informed and advised. Guiding our clients through various stages of transition and growth has given me immense pleasure. I am grateful to have been able to realize my ambitions in the areas of risk, leadership and inclusion & diversity within and outside the company. It is the right time to follow my curiosity and look for new dreams and challenges."heeft contextmenu