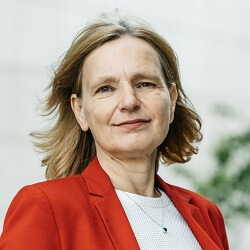 Marieke Schöningh New COO ProRail
15-09-2023 The State Secretary of the Ministry of Infrastructure and Water Management has appointed Marieke Schöningh as Chief Operating Officer (COO) at ProRail. With this appointment, she becomes a member of the Executive Board.
Marieke Schöningh was COO at SHV Energy between 2016 and July 2023 and is supervisory director at TKH Group since 2020. Prior to her role at SHV Energy, Schöningh held various international management positions at DSM and was a non-executive board member at PZEM and DELTA. She starts her new position on October 1.
ProRail's Supervisory Board is pleased with Schöningh's appointment. "Marieke has extensive experience in complex environments ", said Chief Executive Officer Hans Alders. "With the arrival of Marieke as COO, ProRail's Executive Board is once again complete. We thank the other members of the Board for the extra effort they put in recently."

It was also announced that John Voppen, Chief Executive Officer (CEO) of ProRail, has been reappointed for a 4-year term.