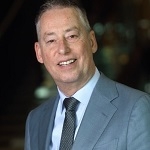 Tim van der Hagen new Supervisory Board member of Gasunie
17-03-2023 The Minister of Finance has appointed Prof. Tim van der Hagen to Gasunie's Supervisory Board effective April 1. The appointment is on the recommendation of the Supervisory Board.
Tim van der Hagen studied Applied Physics at TU Eindhoven after which he received his PhD in 1989 from the Reactor Institute Delft where he conducted research on energy, materials and health. He became Rector Magnificus in 2016 and was reappointed in 2020. Tim van der Hagen will succeed Dirk-Jan van den Berg at Gasunie, who stepped down after 2 terms of 4 years.
Chairman of the Supervisory Board Pieter Duisenberg: 'Gasunie is working on a large number of projects that will make our country's energy supply cleaner and greener. Innovation, collaboration with knowledge institutions, and the development of new technological solutions are crucial in that respect. Tim van der Hagen's joining will further strengthen Gasunie's Supervisory Board in these important areas. We are, therefore, extremely pleased with his appointment.'