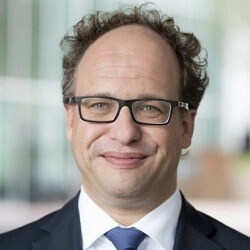 Wouter Koolmees New CEO NS Groep
10-10-2022 NS Groep announced on 10 October that Wouter Koolmees has been appointed as the new CEO with effect from 1 November.
Wouter Koolmees was the Dutch Minister of Social Affairs from 2017 to 2022. He is appointed by the shareholder, the Minister of Finance, on the recommendation of the NS Supervisory Board. The Central Works Council has advised positively on the appointment of Koolmees.

Koolmees succeeds Marjan Rintel, who left the company on 1 July to become CEO of KLM. Since then, the position of president has been filled by financial director Bert Groenewegen.
Chairman of the Supervisory Board Gerard van der Aast has the following to say about the appointment of Koolmees: 'Wouter Koolmees has a proven track record as a director who gets things done. Always from a social point of view, whereby he knows how to unite the interests of different groups. I am confident that he can lead NS to the next phase at a time when the accessibility of the Netherlands is under pressure.'