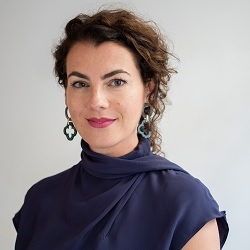 Zita Schellekens new SVP Sustainability & Strategy KLM 
01-02-2023 Zita Schellekens has been appointed Senior Vice President for Sustainability & Strategy, a new position on KLM's Executive Committee, effective March 1, 2023.
Zita Schellekens is currently a Member of the Sustainability Advisory Board of the Royal Schiphol Group. Prior to that, she was Director of Sustainability at DSM for two and a half years. Prior to her position at DSM, she was Director of Corporate Affairs at Heineken, where her responsibilities included sustainability, public affairs and communications at various locations in Asia, Africa and the Netherlands. In her new position, she will report directly to CEO Marjan Rintel.
About her new position, she says the following: "I am committed to a huge mission: the sustainable transformation of KLM. It is a huge and challenging mission, which is absolutely necessary. In my new position, strategy, transformation and sustainability come together. That means I'm focused on accelerating the transition to sustainability, leveraging all available innovative solutions and establishing smart public-private partnerships. I am convinced that in my new position I can make an important contribution to realizing KLM's ambitions and helping the industry make the necessary change."

Marjan Rintel, CEO KLM, on the new position: "The Dutch want to keep flying and we see travel increasing worldwide. KLM wants to enable this in a responsible way, because this is the only way we can help KLM safely into the future. That means investing in a good product for customers, making smart use of technology and setting ambitious sustainability goals. Zita's drive and decisiveness and her extensive experience in tackling complex sustainability issues at large companies make her the ideal candidate to take the lead in making KLM more sustainable. We were already on the right track and I look forward to what we will achieve together in the coming period."