25 Years Mgmt. Scope: Tomorrow's Agenda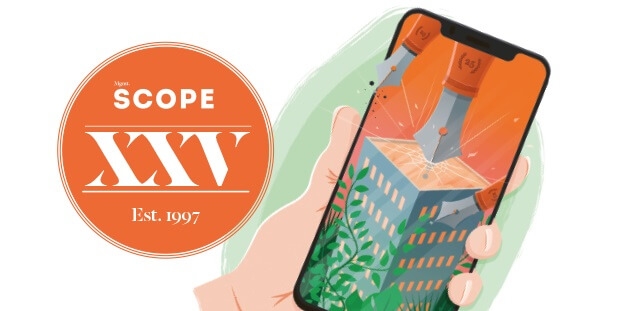 Mgmt. Scope has been covering the ups and downs of Dutch boardrooms for a quarter century now: from the Rijnland model to an Anglo-Saxon shareholder-based approach and back again. How has the magazine itself changed in this time, and what does the future hold? Walter Vesters, Scope Business Media's founder and director, on 25 Years of Mgmt. Scope.
1997
Dutch corporations had a great year: growth was sky high, internationalization rising fast thanks to cross-border takeovers worth billions (ING's acquisition of Belgian Bank Brussel Lambert for 9 billion guilders) and the Amsterdam Stock Exchange had a record year, with the AEX index breaking the 1,000-point limit for the first time ever (in guilders). IPO's enjoyed unprecedented popularity (e.g. Brunel, Nutreco and Vedior) and mergers were everywhere (or not, such as the one announced between publishing companies Reed Elsevier and Wolters Kluwer and were later called off). And when companies moved, they did so within the same country instead of going somewhere else. Philips CEO Cor Boonstra moved the company's headquarters from Eindhoven to Amsterdam, for example.
Generational change
1997 is also the year in which Mgmt. Scope's first issue came out. As chronicler of developments in the corporate Netherlands, we witnessed some major changes over the past quarter century. We saw a generation of board members stand down and welcomed their successors. We also saw our Rijnlands stakeholder-based culture overtaken by a more Anglo-Saxon shareholder-based approach, where chairpersons transitioned from 'first among equals' to CEO, and the terms '(non-)executive' and 'boardroom' entered common usage in Dutch. General Electric's CEO Jack Welch, who is regarded as the father of shareholder value maximation and won the nickname 'Neutron Jack' for his annual layoff rounds, was a totem for leading Dutch companies. That is, until the management book 'Good to Great' by Jim Collins, now considered a classic, showed that a humble 'level five' leader can be more effective than a celebrity CEO. Accounting scandals did the rest, with Ahold as the Netherlands' own homegrown version of Enron.

Grand challenges
In the past two decades, companies have mainly wrestled with three grand challenges: diversity, sustainability and digitization. Interestingly enough, the roots of these three highly topical developments can also be traced back to 1997. That year, diversity platform Opportunity in Bedrijf (created in 1996 by the ministries of Economic Affairs and Social Affairs and Employment and employer association VNO-NCW) organized its first theme day, on 'critical success factors for women in leadership roles.' High time too, as 25 years ago, women in boardrooms were still practically unheard of. Our archives show a ratio of 87% men to only 13% women – and these were Supervisory Board members, not directors. The term 'top woman' does not appear once in Het Financieele Dagblad for all of 1997. If we look at the past twelve months (July 2021 – July 2022), it appears 61 times, while 'top man' appears a whopping 1127 times. There is still a long way to go.

Do not feel forced to pee standing up
From the beginning, Mgmt. Scope has acted to promote women in leadership, for example through our annual 'Top 100 Corporate Women.' We have also continued to advocate diversity, facilitate debate on this subject and emphasize the importance of inclusion: women, do not feel forced to pee standing up! Men, do not fall for the false security offered by a clone of yourself (white man aged 55 or older, chartered accountant)!
The recent crisis led to a decline in diversity, despite women having proven themselves just as capable of providing a safe pair of hands when things get tricky. Now that the next economic crisis appears to be bearing down on us, a 37-year-old woman CEO from India may well be the best choice to guide a company smoothly through the upheaval. Even when companies have the economy on their side and are performing well, however, this carries its own dangers. CEO's may start believing in their own success, becoming corrupted by their position of power and the praise of the acolytes with which they have surrounded themselves. A diverse Executive or Supervisory Board can help prevent this. In upcoming years, a new challenge awaits us: the shift towards greater multicultural diversity. Again, we will work to promote this change through our articles.

From CSR to ESG
And then there is the sustainability transition. The Kyoto Protocol already set out guidelines to reduce greenhouse gas emissions back in 1997. In the same year, John Elkington published 'Cannibals with Forks: The Triple Bottom Line of 21st Century Business.' Corporate Social Responsibility (CSR) gained popularity; a focus on People, Planet, Profit; on sustainability; on ESG (environment, social and governance) criteria. The names keep changing, but we still have not found any good solutions to global problems such as climate change and social inequality. While the world's political leaders address these issues at top conferences, on a smaller scale, Mgmt. Scope brings together corporate leaders to share experiences and provide inspiration for others in roundtable discussions. Since 2017, our Corporate Impact Index has monitored Dutch businesses' commitment to social responsibility. This includes quality of governance, the 'G' in ESG. In 1997, the Peters Committee (named for Aegon's former CEO Jaap Peters, who died in 2019) published forty recommendations for good corporate governance. The Dutch corporate governance code, presented in 2003, has meanwhile been revised twice and should see another update this year, and the (Monitoring) Committee is now up to its sixth chairperson (and first woman; Pauline van der Meer Mohr). All have emphasized the importance of good governance in our magazine over the past 25 years.

Not drastic enough
Finally, our third leadership challenge: digitization. On September 15, 1997, Stanford students Larry Page and Sergey Brin registered the Google.com domain name. Since then, we have seen the rise of the internet, collapse of the dot.com bubble, emergence of smartphones and tablets, social media's growing relevance and worries about fake news. We also saw platforms such as Uber, Airbnb, Booking.com and Just Eat Takeaway pop up everywhere. Disruptive innovation forced existing companies to change their business models. 'Adapt or die.' There are many examples of companies who were (too) slow to respond: Nokia, Kodak, Free Record Shop, V&D… And then there is publishing house VNU, which was ambushed by activist investors and ultimately, sold to a private equity consortium. The magazine industry was one of the first to suffer heavily due to digitization. Former VNU boss Rob van den Bergh reflected on events in Mgmt. Scope at the time. In hindsight, he should have responded faster, he said. "[…] Looking back, I wasn't drastic enough for the times we were living in."

2007
Rob van den Bergh's interview took place in 2007. This was also the year in which we, as Mgmt. Scope's publishers – ten years after our founding – and Ondernemen!, a magazine for Dutch SMEs, determined that we had hit the peak of a business model that seemed destined to disappear. Once upon a time, we gained our income through subscriptions and ads. Each month, we had more than 200,000 magazines printed (150,000 of which targeted SMEs), and 25% or even 35% of the content consisted of ads. Subscribers paid us a nice amount annually, in advance! Only later would we realize how great this revenue model really was: thanks to the subscriptions, we had cash to play with even before we had done any work and the pages with ads cost us no effort whatsoever.

Dire straits
That was then. We thought we still had time to come up with a new revenue model. Then, in the second quarter of 2008, the financial crisis descended on us and from one day to the next, 40% of our ad revenues disappeared. Never to return. Suddenly, we had run out of time. In 2009, in dire straits, we asked our readers if they expected to still be reading Mgmt. Scope in the future. Two roundtable discussions later, their answer was shocking but unmistakable. Google's near-endless supply of background information was our new competition. Readers were no longer willing to wait and see if our latest monthly issue offered them relevant information. The only content they still considered valuable was what we came to call 'agenda-setting' knowledge: trends and future-oriented topics.

Tomorrow's agenda
Searching for a new revenue model in a state of existential dread is definitely not a pleasant experience, but it is effective. Under pressure, everything becomes malleable. In 2010, we held our first meetings to discuss the establishment of leading boardroom advisers as expert partners to Mgmt. Scope. This gained us relevant knowledge to offer our readers and also, as we freely admit, a new source of income and a sturdier financial foundation. Developments were in our favor in this regard. Prior to the financial crisis, companies and experts preferred to keep their cards close to their chest: knowledge was (market) power. Then came the realization that sharing knowledge in fact multiplies it, creates a competitive advantage and accelerates growth, especially once open source innovation and collaborative ecosystems began to gain ground. Mgmt. Scope was able to expand into a knowledge and networking platform, innovating our business model and redefining the reason for our existence. These days, we call that 'purpose.' We grew from just a management magazine to a multimedia platform, where executive and supervisory board members and experts could meet peer-to-peer for dialogue, debate and defining tomorrow's agenda and to share knowledge and insights on management and supervision with each other and the outside world through 'need to know' content. Our goals: to help further open up Dutch boardrooms, make decisions more transparent and share dilemmas.

2022
We are now facing our next challenge. Over the past quarter century, membership of Dutch boardrooms has become increasingly international. According to our database, 66% of AEX fund supervisory board members are no longer Dutch, as opposed to only a fifth in 1999, and nine supervisory board chairpersons hold a foreign passport. 42% of midcap fund supervisory board members are foreign nationals and six companies have a foreign chairperson. Additionally, over half of the executives in the AEX now are from abroad. This means the majority of the supervisory and executive board members for the Netherlands' largest companies no longer speak Dutch and in fact, often live elsewhere. This can easily lead to mistakes if foreign supervisory and executive board members have insufficient insight into Dutch cultural values.

Bonus blunders
Consider the bonus granted to Philips executives this year by the medical technology firm's Supervisory Board, despite the CPAP recall. This move did not go over well with society or their own shareholders, 80% of whom voted against it. The Philips Supervisory Board is still chaired by a Dutchman, former DSM boss Feike Sijbesma, and PostNL CEO Herna Verhagen also joined their supervisory board this spring, but the other eight members are foreigners, mainly from Anglo-Saxon backgrounds, with different ideas about appropriate rewards. Mgmt. Scope also wants to start providing this growing group of non-Dutch (non-)executives with knowledge and insights regarding management, supervision and our stakeholder culture. From this issue onwards, all content on our website will therefore be available in English as well from now on. While our magazine remains in Dutch for now, this too may change in future.

2047
What do the next 25 years have in store? How diverse will boardrooms be by 2047? How sustainable, with three years to go till the Paris climate agreement deadline? How disruptive will digitization prove to businesses and society? What place is reserved for humans in the metaverse? In the next few decades, we will need to build organizations that are fluid and adaptable, but also human and social, in an increasingly complex world. The corporation of the future is figuratively incorporate: diverse and inclusive, both people and stakeholder-oriented and an integral part of society. This calls for a new style of executive and supervisory board member, one who prioritizes their duty of care to society. Their role will not become any easier, but it will be more valuable and rewarding. Mgmt. Scope wants to support executive and supervisory board members in making these changes; using dialogue, debate and explanations to help them explore the new terrain and chart a way forwards. Our motto for the next 25 years remains: 'A meeting of minds.'

This article was published in Management Scope 07 2022.