COO Debate & Dinner 2022: Everyone Appears to be Struggling in a Volatile Market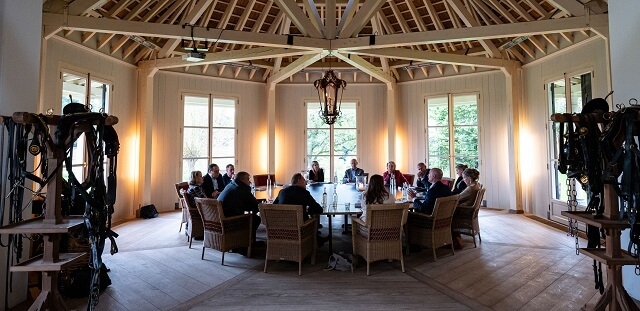 What determines the COO's agenda in times of polycrisis? There was fervent discussion during the COO debate & dinner organized by Mgmt. Scope and consultancy firm Valcon. Everybody is struggling: from a director realizing that the company finds itself in a weaker position with regard to suppliers, to a COO outlining the challenging aspects of working from home. Nothing appears to be more difficult for an established company than growing in changing markets and circumstances. "You can make a difference, especially in challenging times."
While the corona pandemic is not yet over, new crises are quickly piling up. The war in Ukraine, rising gas prices, rising inflation and a tight labor market - every company to a greater or lesser extent struggles with these issues. At the same time, companies are moving towards sustainability to reduce their CO2 emissions, as a step towards carbon neutrality by 2050. A society with a low carbon footprint must be achieved by that year to avoid major catastrophe.
Turbulent times pose great challenges for directors. What impact will these crises have on a company's supply chain, operational processes and IT infrastructure? How will directors navigate their organizations through these storms and how will they lead their employees through it? What lessons did directors learn from the corona pandemic and other crises?
In early October, a gathering of CEOs, COOs and CTOs from listed and unlisted companies exchanged experiences at a debate & dinner at the invitation of consulting firm Valcon. The roundtable discussion took place at Koetshuis de Zadelhoff, which offers beautiful views over farmland bordering the Vecht and the Loosdrecht lakes. The debate moderator was Geert van den Goor, managing partner of Valcon. The discussion was held under the Chatham House Rule, which means that information disclosed may not be explicitly or implicitly attributed to any specific director.
Technology still immature
As an introduction, Frits Eulderink, COO of Vopak, explained the dilemmas his company faces in the energy transition. The international tank storage company managed to successfully adapt to changing markets several times. More than 400 years ago, Vopak's predecessors started storing tea and spices from the colonies. Today the focus is on the storage and transshipment of oil, chemicals and liquefied natural gas (LNG). But Vopak is slowly winding down its oil and chemicals business and investing heavily in supply chains for more sustainable energy sources and raw materials. For instance, the company is exploring with partners how it can store sustainably-generated electricity as hydrogen in the future. "Some promising technology has not yet reached the point where this can be achieved on an industrial scale," said Eulderink. "Moreover, the cost of renewable energy storage is still too high." According to the Vopak COO, the current method of tackling energy transition does not easily fit the capitalist system. "We are actually competing with each other in our current system, when we ought to be fighting climate change together. That is our biggest hurdle."

Dilemma
Vopak sees several challenges when storing hydrogen. Many more studies will be needed on the feasibility and safety of industrial storage. "So it will be some time before we get permits to build giant batteries." "Finding space for this will also be a tough job in already densely built-up industrial areas." Another important factor is that there is currently insufficient wind and solar energy infrastructure available to produce hydrogen on a large scale. Eulderink believes industry will have to start producing blue hydrogen, obtained by captured CO2. "That way we will be ready as soon as there is enough renewable energy." With its ambition to become more sustainable, Vopak regularly finds itself in a dilemma. "On the one hand, there is a desire to invest in high-impact, longer-term projects; on the other hand, shareholders want to see quick results. This leads to complicated discussions internally."

What if we fail?
According to Eulderink, the role of national and international governments is crucial for effecting an energy revolution. "It is imperative that the European hydrogen market soon has a level playing field." A COO said that at the same time one should not lean only on politics. "The business community is better at solving long-term issues than politicians. We will have to do it in the end." A fellow director agreed. He regularly gets annoyed at the lack of long-term thinking. "But I have discovered that as a director you have to try harder to understand the perspective of the politicians in The Hague. Trying to understand their rationale leads to better discussions than rashly rejecting the plans because you find them short-sighted."
Eulderink found that there was too much wishful thinking in politics. "The policymakers are confident we will meet the climate targets. While I sincerely hope so, I find this worrying. What if we fail? Let us, in particular, also prepare for the scenario in which the earth warms up by more than 2 degrees." Such scenario planning would also have helped in the current energy crisis: "Skyrocketing gas prices after Russia turned off the gas tap took politicians and society by surprise, but the energy sector has has repeatedly pointed out such a scenario to politicians."

Transparancy
A number of companies realized after the corona pandemic that it is unwise to depend on one market for certain commodities. China locking down during the pandemic had a major impact on many a production process. For companies with branches abroad, the different home-working policies of governments were problematic.
Apart from shared challenges, such as the corona pandemic and energy transition, there are of course also specific challenges for each company. The participants agreed that transparent and open communication is then of great importance.

Start with the crazy people
Labor market scarcity is currently giving directors headaches. Companies have to adapt to their new position in the changing playing field. A few directors recognize that organizations have been arrogant towards suppliers for years. "We used to decide how things were run, but nowadays we no longer have that luxury. The relationships have changed," admitted a table participant. "The challenge now is to co-create with suppliers. "This is new and difficult for colleagues, but it is imperative to innovate."
Getting people within the organization onboard is one of the biggest challenges, according to directors. In some organizations, employees are simply not used to acting decisively. "Internally, there is a strong culture of evaluate, evaluate and evaluate again," said a COO. "But yesterday's risks are not today's risks. So the mindset has to change, which is incredibly difficult to achieve." Experience has shown that there will be many employees who simply do not want to change. "They want to keep doing what they have always done. So focus on the group that is open to it. Start with the crazy people; they are the people who are open to innovation. Encourage these colleagues with the help of external professionals."
A fellow director: "Protect these innovators from the financial people - they kill ideas immediately if there is no immediate model for making money. Also keep the innovative vanguard away from the security department. Such colleagues will say that a new product does not conform to regulations." One table participant voiced the opinion that companies should not set too ambitious goals. "That leads to frustration among employees. It is better to stay realistic and celebrate small successes." Collaboration with ventures could be a solution, according to Eulderink. "By investing in startups with promising technologies, you can help change the industry."
While directors find it difficult to trail-blaze in a sector with heavily regulated processes, Eulderink believes that the Netherlands is uniquely placed to get innovations off the ground despite this. "The lines of communication with the government are short, unlike in some countries such as India. Involve policymakers in your plans early. In 2011, Rotterdam was the first port to allow the filling of ships with liquefied natural gas. While LNG is also a fossil fuel, burning it produces less emissions of nitrogen, sulfur dioxide, particles and CO2."

Fewer brilliant ideas
A director remarked that creativity within the organization has been plummeting worrisomely since employees have been working more from home as a result of the corona pandemic. "In the past, good ideas were generated by chance contacts at the coffee machine or in company corridors. No exchange of information or knowledge on the work floor not only leads to fewer brilliant ideas, but also to more mistakes." This not only occurs in the Netherlands, according to the CEO, but also abroad. Customers do not appear affected by this, as work from home is also more common at these companies. They have lowered the bar."
Virtual brainstorming sessions seem easy and efficient, according to this director, but employees lose a sense of connection with their company. "Working from home changes one's sense of belonging to an organization. We do not want to force people to come to the office, but we are struggling with how to entice them into coming to the office more often."
A COO of a company with many low-skilled employees on its payroll champions the idea of doing something about the growing money concerns of his colleagues. "Rising inflation and substantially higher gas bills are causing huge social problems. There are already people who cannot feed their children at the end of the month. That is unacceptable in a country like the Netherlands, but it happens." The COO wants to agree to the union demands to raise wages. The company works with small margins, so it has to pass the price on to the customer. "That means breaking open existing contracts in which we have committed to not raising prices. Unfortunately, this will have to happen, even if we have to go to court for it."
Picnic: algorithms as a driving force
During the dinner, the guests got a glimpse inside the kitchen of online grocery service Picnic. Electric vehicles have been driving through Dutch streets since 2015. Like a kind of modern milkman, Picnic delivers groceries to your doorstep free of charge every day. Unlike in the days of the SRV (small mobile supermarket) man, consumers simply order their groceries via an app. "The mission is to deliver in a pre-agreed timeslot of 20 minutes," said Wybe Jan Bleeker, supply chain lead of Picnic.
Behind the scenes, Picnic has a knack for supply chain management. Customers can order until 22:00 for next-day delivery. After 22:00, orders for fresh fruit and vegetables are forwarded to suppliers, who deliver them to one of the distribution centers the next day. On the day of delivery, shoppers gather the groceries together and place them in the crates. In Utrecht, this is now done robotically. "Algorithms determine much of the logistics process," explained Bleeker. "Not just how to place the items in the vehicle, but also how many crates are needed and what is the shortest, smartest route to get to the customer within the designated 20 minutes."
Picnic has successful growth, everywhere it opens a branch. "A third of people who order from Picnic remains loyal to Picnic." According to Bleeker, Picnic now delivers to 300,000 households and covers about a third of the Netherlands. The online grocery service is also spreading its wings internationally: to Germany and France.

Growing pains
Picnic's story has shown that it sometimes is easier to create a successful business model from scratch than to adapt an existing company in changing markets. Nevertheless, Vopak director Eulderink said he was grateful to be allowed to help lead Vopak through the energy transition. "You can make a difference, especially in challenging times."

This article was published in Management Scope 09 2022.