Frits Eulderink (Vopak): 'Getting Ready for our Role in the New World Trade'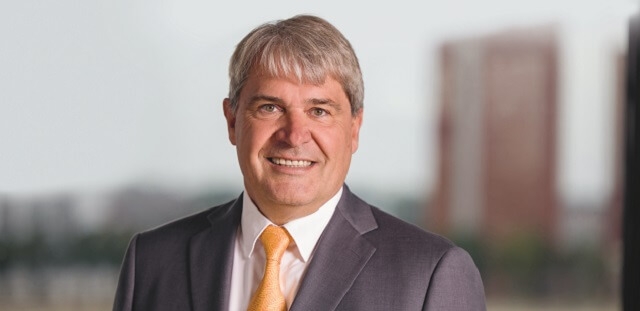 With 71 terminals for the storage of chemicals, gas and oil in 23 countries, Vopak is experiencing the energy transition up close. COO Frits Eulderink on how the Rotterdam-based company is preparing for the new global market: 'If a country announces it is going to export hydrogen, we are ready for that job.'
Transformation runs deep in Vopak's genes. The company's oldest predecessor - the Blauwhoedenveem - came into being in 1616. Porters in Amsterdam lugged the goods from the VOC ships to the city weigh house. Later, the storage of tea and spices in warehouses was added. At the end of the 19th century, the company focused on the transshipment and storage of oil, among other things. Today, Vopak is increasingly shifting its focus from oil to chemicals and cleaner fuels, such as Liquefied Natural Gas (LNG) and Liquefied Petroleum Gas (LPG). New sustainable forms of energy and raw materials are being added to this.

'We look back on a transition from tea to LNG,' summarizes coo Frits Eulderink. As far as he is concerned, H2 – the chemical name for hydrogen gas – fits in nicely. Vopak is firmly committed to this promising energy source. The company is involved in a large number of hydrogen projects and closely follows international developments. What's special is that hydrogen holds no secrets for Eulderink. With a doctorate in astronomy, he began his career as a researcher at the National Radio Astronomy Observatory in the United States, among other places: 'The galaxy consists mainly of hydrogen.' Eulderink ultimately did not make a career as a scientist. He did, however, continue to be committed to scientific research, to his old field and to the link between science and business, until recently, for example, through SmartPort in Rotterdam. Eulderink has been COO of Vopak since 2010. In an interview with Marc Boumans, partner at Valcon consultancy, he explains how, in his role, he is preparing the organization for a new era.
How is Vopak responding to the changing energy market?
'There is no denying that oil and gas are still important in the global energy supply, but we are preparing ourselves to be a leading player in the new energy system as well. We have already started to make a turn several years ago. Whereas about ten years ago we were still 55 percent dependent on oil storage, by 2020 it will only be about 30 percent. As a tank storage company, we mainly play a facilitating role. We are mainly involved in linking up new chains. That involves customers and often partners as well.'

As COO, how do you take the organization through this transformation?
'What makes my job so enjoyable is that I have a role in all layers of the organization. Often, I have to zoom out on a global level, other times, I have to zoom in on a departmental level. On the one hand, I look, along with the rest of the board, at how the world market is developing, how the demand for products is changing and what adjustments this requires. I think along with them about how we can work as cost-efficiently as possible. On the other hand, it is then my job to translate that mission within the organization. We are originally a very decentralized company. Of course, the 71 terminals have to comply with our safety regulations and ethical values and use our IT systems, but apart from that they operate as independent entities as much as possible in order to serve the customer as well as possible. In the event of major changes, as is currently the case with the energy transition, the trick is to get all these entities to work together and above all to learn from each other. If innovations get off the ground in one of the local markets, we want to share that knowledge throughout the company. In Rotterdam, for example, we are currently working with partners on infrastructure for carbon dioxide. Numerous hydrogen projects are also getting off the ground. It is valuable to share those insights with other Vopak teams.'

How do you organize that?
'On the one hand, knowledge is built up within a central team. That is very common. But on the other hand, that knowledge is shared with locations where new energy projects look promising, and we also have local experts who develop knowledge. That information is also shared from the locations with the central team. For example, there are colleagues at various locations who specialize in ammonia. This substance is seen as a possible energy carrier of hydrogen. At seven terminals, there are operational teams that have been working with it for years. We have provided digital networks, which allow teams to easily request and exchange knowledge and experiences among themselves.'

What has this exchange of knowledge led to?
'Successful communities have been created around certain themes. In tank maintenance, for example, this has led to cost and time savings of up to 10 to 15 percent. Experts know how to find each other easily thanks to the system. There is a lively discussion going on about smart discoveries. This is not only good for the hard figures, but it also has a motivating effect on employees. If, for example, you are a starting team in the United States working on setting up a new storage facility for ammonia, and you are in contact with experienced experts elsewhere, for example from Malaysia, then the work becomes not only better but also more fun.'

What are the spearheads for Vopak and how do you deal with them as COO?
'Vopak has formulated four, for new energies and sustainable feedstocks. First of all, we are strongly committed to hydrogen: We are involved in various projects and are looking at all possible ways of supplying and removing. Next, the focus is on the infrastructure for the transport and storage of carbon dioxide. Thirdly, we are investigating the possibilities for new supply chains of sustainable raw materials for the chemical industry. How can we reuse waste streams such as recycled plastic or agricultural waste as feedstock? Finally, we are studying the storage of electricity in batteries on an industrial scale. For this purpose, we entered into a joint venture with Elestor, among others. This young technology company developed the hydrogen bromide flow battery, that allows electricity to be stored at low cost. Our tanks can act as storage for electricity, thus forming a giant battery. The low storage cost is possible because bromine was chosen as the active material. This chemical element is widely available and is extracted from seawater. The principle of the flow battery originated with NASA: The American space organization wanted to use the technology in the 1960s to provide energy on the moon.

Do the changing activities lead to new customer relationships?
'Absolutely. Of course, we have our existing customers: The major oil and gas companies, the chemical industry and agri-food companies. They are in the middle of the transition and remain important. In addition, our organization is slowly shifting towards the world of electricity. Whereas previously, for example, we only talked about gas with energy company Eneco, we now also talk about electricity.'

Will the transition to other energy sources require many adaptations to the current infrastructure?
'That depends on the product. If it is hydrogen to hydrocarbon carriers, then our infrastructure can be used immediately. For ammonia as an energy carrier, we already have usable infrastructure, but it will have to be scaled up in the long run. Liquid hydrogen is another story. For that, we will have to develop and build new facilities.
For carbon dioxide storage, building new infrastructure will not be very difficult. Underground storage of CO2 we leave to specialized companies, they are sure to get it done. Also, if we talk about recycled plastic and other waste streams as raw materials, we will get quite far with our current infrastructure. This raw material is especially difficult logistically: How do you collect it and sort it into different types? Then finally, there is the storage of electricity using the flow batteries. We now have one of 1 MW, but we want to scale it up. That's mainly a technology issue. Once the technology has proven itself, we expect to be able to partially reuse our existing tanks.'

Vopak has 71 terminals and operates in 23 countries. Will new locations be added or current locations disappear?
'The answer is twofold. A lot of capital has been invested in the areas where we are currently located. So there are big interests in keeping all that infrastructure usable. Investors want to upgrade their assets for new energy and renewable resources. It is obvious that many traditional oil countries, such as the Middle East, will produce a lot of solar energy in the future. But there will certainly be new locations in countries that do not have oil, but do have favorable conditions for hydrogen production. Morocco, because of its coastal location and the large number of hours of sunshine, can become a hydrogen country. But a country like Chile, with a lot of sun as well as a lot of wind, also has that potential.

Does Vopak have the necessary knowledge to start up new locations easily, or do people need to be trained for it?
'We are following the developments around hydrogen closely. If a country announces that it is going to export hydrogen, we are ready for the job. Our preference is to form new chains in consultation with stakeholders and local partners. The most important question is how hydrogen will be exported. If ammonia is chosen as the energy carrier, then new energy flows can be set up quickly. If it concerns liquid hydrogen, the road ahead is longer. A great deal still needs to be developed. The first ship for such transport is currently under construction.'

How does cooperation work in the field of innovation?
'We are well-informed of developments. If interesting innovations come up, we see if it fits in with our company. We can be an important outlet, and thus contribute to the further development of a new technology. Sometimes we take shares in a tech company, and work closely together on further development.
An example is our participation in Hydrogenious. This German scale-up has developed a technology for bonding hydrogen to a hydrocarbon molecule: An example of a Liquid Organic Hydrogen Carrier or LOHC. The hydrogen is then transported like oil, to release it at the desired destination and return the oil to retrieve new hydrogen. The technology has been proven on a small scale, and Vopak has stepped in as a partner to scale it up further. The big advantage of this technology is that it can make the transport and storage of hydrogen a lot easier.'

Has your role as COO changed in recent years?
'Yes, definitely. In my early years, the focus was mainly on improving our services by introducing global standards based on our purpose: Storing vital products with care. The same regulations apply at all locations, guaranteeing that storage is carried out safely and with care. Digital transformation has gradually started to play an important role - how can we use data and smart software to do business more efficiently and serve our customers better. In the last five to seven years, the main focus has been on the energy transition and how we need to prepare for it. We have to be ready for our role in the new world trade.'

What impact does digitization have on the business?
'It led to several positive developments. Because our colleagues are working with the same software everywhere, our standard - safe and careful storage - is even better secured. Digitization also brought Vopak more transparency. If something happened somewhere in the chain, the managing director at a location would usually hear about it too late. Now he or she sees it happening real time on the screen. We can spot deviations earlier and respond accordingly. We can also offer our customers more real-time information now, making logistics chains much more efficient.'

Did the rollout of digitization lead to resistance from some internal customers?
'There was certainly that risk. But we chose to develop the software together with customers and our process experts. In this way, we were able to respond well to what external customers need and how our people prefer to operate the software. We are quite proud of that. We can see, at the touch of a button, which trucks are currently being loaded in Los Angeles and when the transport leaves. That used to require a phone call.'

What difference does Vopak make as a local stakeholder?
'If at all possible, we try to do something for local communities. In South Africa, near Johannesburg, for example, we built a new storage terminal at the end of a 600 kilometer government transport pipeline. We chose to train people locally for operational leadership. As a result, one-third of the team now consists of local people. What is also special is that this team - the only one within Vopak - consists almost entirely of female operators.'
This article was published in Management Scope 01 2022.
This article was last changed on 15-12-2021