The First 100 Days As CFO of de Volksbank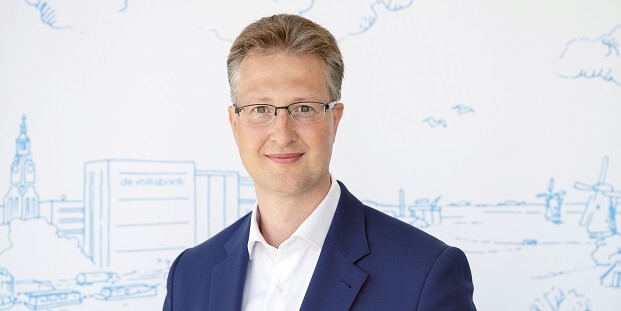 On his first hundred days as CFO of de Volksbank, André Haag says: 'The positive chemistry in management was the deciding factor.'
Who: André Haag
What: Since August 1, 2022, CFO of de Volksbank
Interviewed by: Willem Blom, partner at Deloitte

You have more than 20 years of experience, particularly in the international banking world. Why did you choose Volksbank?
'During my career, I started thinking more and more about how I can really make an impact through banking and contribute to society. Also, how I can actively promote sustainability. I find social banking inspiring because it allows me to combine my knowledge and skills as a CFO with making social impact. That fits very well with Volksbank, which wants to be a forerunner in creating banking services that focus on fairness, diversity and inclusion.'
Volksbank, still fully state-owned, is emerging from a troubled period with the requisite Board changes. Doing your due diligence, how did you gain confidence that you could succeed in this position?
'It was not a hasty decision. Besides exchanging the usual due diligence process, we took much time to get to know each other. In my discussions with the Supervisory Board, the leadership team, the supervisors and NLFI (The State of the Netherlands transferred the shares of Volksbank N.V. to NLFI, ed.) I was positively surprised by the commitment, mutual respect and transparent dialogue about the business model, the transition the bank is going through and the strategy for the coming years. If you agree on that, it already creates confidence. In addition, the mutual chemistry within the Board is right. That was the deciding factor.'

How did your onboarding go?
'The formal onboarding program was extensive, structured and comparable to that of other banks. We also had many conversations about the bank's social mission: how do we define it and how we reflect it in our banking products. This too confirmed my choice.
Volksbank's journey of improving the business model appealed to me. Moreover, my impression was that it was real and not marketing spin. It is especially challenging to balance this social mission with our financial position. It is not possible to simultaneously maximize both. Our mission is to find a balance between creating social impact and further improving our financial position, knowing that there is never a perfect trade-off. I find this important and intellectually challenging.

From your financial role, how can you contribute to finding that balance?
'We have more than 600 branches spread across the country, including in very remote areas. Equal opportunities for everyone in society to obtain financial products and services is characteristic of what Volksbank stands for, also historically. Therefor we made the conscious decision to, in addition to online, also have our branches physical and close-by in order to give everyone access to our services and advice. Naturally, this weighs on our cost-benefit ratio. Thanks to thorough integrated financial planning with a central ICT backbone, we are continuously investing in our product range to further optimize our customer experience. In doing so, we can further standardize and automate our business model and efficiency ratios. We embrace diversity, both in recruiting our employees and attracting our customers by recognizing and respecting differences in backgrounds regardless of age, gender, race and health status. From this inclusive customer approach, we provide banking solutions that are affordable and meet customer needs. Needless to say, in compliance with customer integrity laws and regulations.'

Looking back in four years, what would you like to have achieved?
'Successful implementation of our strategy 2021-2025: Better for each other - from promise to impact. Moreover, some mission-critical, timeous investments - such as in digitization, KYC and IT security - will have made the bank more robust and resilient. There will ceteris paribus be better cost discipline and return on assets.
On the non-financial side, I want to work with my exco colleagues to make our position as a social forerunner more measurable, with clear quantitative and qualitative data on equality, diversity and inclusion. By collecting and selecting data from our customers right at the start of the chain, we can sharpen up our story and back it with figures. With this customers and stakeholders can form a clearer picture of who we are, what we stand for and how we differ from other banks.'

This article is published in Management Scope 02 2023.
This article was last changed on 07-02-2023