Next50 Non-Executive Directors 2023: Up-and-coming Talent is White and Middle-aged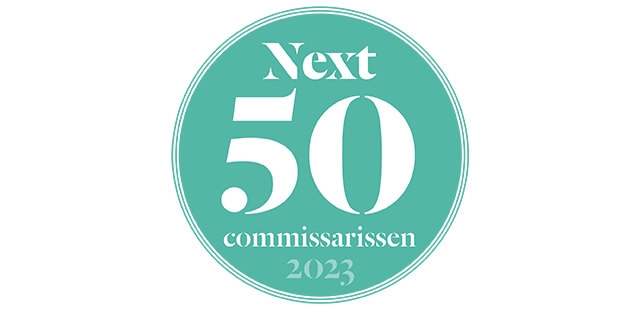 The Next50 2023: half of the upcoming top non-executives are women, 80 percent are over 50, and multicultural diversity is still far from the mark. In the coming editions of the Next50 we will see a breakthrough in these areas. We signal a broadening of profiles in the Supervisory Board.
In the wings of the Dutch executive world, 50 Non-Executive Directors are poised to take on the role of top Supervisory Board member in the coming years. They do not yet qualify for the Management Scope Top-100 Non-Executive Directors, but they hold or are building an interesting portfolio of Supervisory positions. This would put them at the center of power in Dutch business, where they are currently only on the periphery. Who are these men and women who together hold some 110 Supervisory Directorships?
What is the similarity between cell phones and milk? They both belong in Baptiest Coopmans' Supervisory portfolio. The telecom titan (Liberty Global, former CEO Ziggo and former CFO KPN) is the new No. 1 of the Next50, the gateway to the Top 100 Supervisory Board members, the list of most influential Supervisory Board members in the Netherlands. Coopmans (see "Baptiest Coopmans: The New Number 1 in the Next50 2023") already supervised VodafoneZiggo and late last year became a Supervisory Board member (vice Chairman) at dairy cooperative FrieslandCampina. That is not as unfamiliar territory as it seems, as Coopmans spent the first half of his career at food group Unilever. As FrieslandCampina's new Supervisory Board member, he can immediately start the search for a successor to CEO Hein Schumacher, who will become the highest boss at... Unilever as of July 1. Coopmans himself still has room in his portfolio for more hefty Supervisory positions: his move outside the telecom sector could well be the prelude to more "diversification" and thus top Supervisory Board member status.

Orange above
At No. 2 we find Bernard Fortuyn, former director of Siemens Netherlands, who collected a handful of Supervisory Board memberships in the technical and energy fields. He is Chairman of three Boards: grid operator Juva, science museum NEMO and gas wholesaler GasTerra. The latter position could certainly not be called calm during the past year, due to the consequences of the war in Ukraine on the international gas trade. And then there was the parliamentary inquiry into gas extraction in Groningen. But even more challenging is perhaps Fortuyn's Supervisory role at Oranjewoud, part of Gerard Sanderink's business empire. His IT company Centric ended up in a management crisis because the entrepreneur fought a long-running battle with his ex-wife on the back of his company. The Chamber of Commerce suspended Sanderink as CEO of Centric (where Peter Wakkie is currently putting things in order), but he is still the boss of Oranjewoud (holding company of construction company Strukton and engineering firm Antea). Besides Fortuyn, the Next50 includes two more Oranjewoud Supervisory Board members: Supervisory Board Chairman Joseph Kuling (no. 11) and Aike Schoots (no. 43).

Enter the platform Supervisory Board member
The first woman on the list occupies the third spot: Mieke De Schepper (see "Mieke De Schepper: The Highest Ranking Woman in the Next50"). Last year she became not only CCO of review site Trustpilot, but also Supervisory Board member of online meal delivery company Just Eat Takeaway.com and hotel search engine Trivago. A platform Supervisory Board member, then, and thus a new addition to the existing Supervisor typology of financials, lawyers and sector specialists. A total of eight Supervisory Directors entered the top 10 new to the list. At No. 5 we meet Ahold Delhaize CEO Frans Muller, who joins the Supervisory Board of De Nederlandsche Bank this spring, which has always been a prestigious position. He is also Supervisory Board Chairman of Vlerick Business School. With that, Muller's (shopping) basket seems full for now, as his own Supervisory Board members want to reappoint him as CEO of the supermarket group for another four years. Moreover, Muller will have his hands more than full in that role in the coming year: the belt has to be tightened due to inflation and high energy costs. So, the country's largest grocer will have to keep an eye on the cents itself.

36/7
Another retail veteran also entered the top 10: Ton van Veen (no. 9) of Jumbo, the archrival of Ahold's Appie. As delegated Supervisory Board member of the family supermarket, Van Veen temporarily took over the role of CEO Frits van Eerd, who stepped down because of his role as a suspect in a money laundering case. Van Veen is also a Supervisory Board member of Jumbo subsidiary Hema and retail chain Rituals (the life's work of Raymond Cloosterman, the husband of Frits' sister Colette, former CEO and current Supervisory Board member of Jumbo. It's all in the family. Van Veen is also Chairman of the Supervisory Board of sponsor team Team Jumbo-Visma and Supervisory Board member of soccer club PSV. And then he is majority shareholder of chocolate brand Coco & Sebas, which recently took over a large part of the Dutch stores of the chic Leonidas and converted them to quickly roll out its own formula on the streets. Top Executive a.i., four Supervisory Board memberships and entrepreneur: there are only 24 hours in a day, aren't there?

007 Supervisory Board members
The top 10 includes a total of three women, the same number as last year, although with De Schepper there is now a woman in the top 3 for the first time. At number 7 we find An Steegen, also the highest ranking foreign Supervisory Board member on the list. The Belgian co-CEO of technology company Barco became Supervisory Board member of chip machine manufacturer ASML, incidentally just like Germany's Alexander Everke (No. 12), until this spring CEO of lighting company ams Osram. A virtual Chinese spy balloon has been hanging over the Veldhoven-based company for some time, which is no longer allowed to export its most advanced machines to China for fear of military abuse. Hopefully the Supervisory Board members have a bit of 007 ingenuity and a good political network to assist the ASML top. The third woman number 10 on the top 10 list: Nicole Bouvy became Supervisory Board member of health insurer VGZ. Bouvy is a surgeon and professor and is committed to greener, more sensible and more diverse healthcare. With her arrival, the Supervisory Board already contains more women than men; two of them are also in the Next50: Franca Vossen (no. 28) and Marion Koopman (no. 30). Those women were also on the list last year and thus did not yet manage to promote to the Top-100. However, they are also both Directors (Vossen is CRO at development bank FMO and Koopman is COCO at The Student Hotel): the shift can only be made if the two Supervisory Directorships in addition to their primary positions are sufficiently arduous.

Leading group: still men
In total, there are 25 women in the Next50: so the m/f balance is in balance. For the two previous years, that ratio was still 26/24. It could have been expected that, with the introduction of the women's quota, the balance would have tipped toward the women. However, among the 27 new Supervisory Board members on the list, men are in the majority: 16 against 11 women. Among those who dropped out, the ratio was almost the same: three more men than women dropped out. What is striking is that in the select group of eight Supervisory Board members who were promoted to the Top 100, the men are suddenly in the lead again: 5 men versus 3 women, or in other words: about one third versus one quarter. Again, one would expect that to be the other way around. Perhaps a cautious conclusion may be drawn from this: although women are increasingly populating Dutch Boardrooms, access to top oversight still seems slightly easier for men. Incidentally, last year the number of newcomers to the Next50 was considerably higher at 36. Then there was a catch-up in Board appointments after a "Supervisory Board member lockdown" by corona. Meanwhile, we seem to be back to normal levels: the refresh of the list is 54 percent.

C-suite likes to look into other Boardrooms
The list includes a total of 21 Supervisory Board members (42 percent) who perform oversight in addition to their managerial role. Even in the top 10, half of the Supervisory Board members are still active as Executive directors, including list leader Coopmans. Last year, by contrast, the first 10 positions were dominated by professional Supervisory Board members. The number of 'doubly engaged' Executive directors/Supervisory Board members in the highest regions of the list thus increased. In total, we count eight CEOs in the Next50. For example, Allard Castelein (No. 21), CEO at the Port of Rotterdam Authority, became a Supervisory Board member at builder Heijmans (he was supervisory board member at waste processor Renewi before). It seems that not only Chairmen, but also members of the executive board enjoy working on both boards simultaneously. We count 13 CXO's, including a COO, CCO, CPO, COCO, 2 CROs and a CIO. This represents practically the entire C-suite which gives an indication about the broadening of profiles in Supervisory Boards.

Game over
Yet the 'old-fashioned' CFO is apparently still in demand too: we come across three on the list. Chris Figee (no. 37), for example, CFO of telecom company KPN, went on to supervise gaming company Azerion. That is also an example of forward integration, as the smallcap that started as an empty stock market shell developed free games for cell phones with online advertising as its revenue model. The company has a 20 percent stake in soccer club Fortuna Sittard and is name sponsor of the Azerion Women's Premier League. This also serves to create a natural alignment with KPN, main sponsor of the Premier League. We suspect that the Supervisory Board meetings at Azerion will not be about the results of the gaming company alone. The dream of Dutch-Turkish entrepreneurs, co-CEOs and major shareholders Atilla Aytekin and Umut Akpinar is beginning to take on nightmarish proportions since the IPO, as the share price has collapsed, and the company has a claim from a former British partner on its hands. But Aytekin faced hotter fires before, after the bankruptcy of a previous company, in which he himself ended up in debt restructuring. Game over and then just start again at level one.

White, White, White
The Supervisory Boards of other companies could perhaps benefit from their valuable experience. Who knows, we might eventually see Aytekin and Akpinar back in the Next50 as prospective top Supervisory Board members. Executive members with a multicultural background (excluding the five foreign Supervisory Board members) are still highly uncommon. Last year there was one: Action CEO and Coolblue Supervisory Board member Hajir Hajji, daughter of Moroccan parents. The year before, the Next50 was headed by Laetitia Griffith, the first woman and woman of color in that position. This year, the list is white as ever and the frame of reference is often our own little country. Although Kuldip Singh (no. 31, see 'Kuldip Singh: Multicultural Talent in the Next50 2023') - Supervisory Board member of, among others, consultancy and accountancy firm KPMG - is an exception, with his Indian cultural background and international experience.

Supervisory Board member of less than 30
Singh was born in 1973 and thus celebrates his 50th birthday this year. In life years this may be halfway there, but as a Supervisory Board member is is still relatively 'young'. As many as 39 of the Supervisory Board members from the Next50 - or nearly 80 percent - are above that magic limit. The oldest Supervisory Board member was born in 1951 and is therefore 72 years old (the aforementioned Aike Schoots): formerly the statutory age limit. Since Supervisory Board members nowadays often stay on longer - think Jeroen van der Veer, at 75 still Chairman of the Supervisory Board of dredging company Boskalis - you can still be next when you are in your seventies. But fortunately there is also young growth in the purgatory of the Supervisory Board: 11 Supervisory Board members on the list are (almost) 50 or younger. Among them are six people in their forties and even one Supervisory Board member who is still only 29: Iris Bouwers (see 'Iris Bouwers: The Youngest Member in the Next50 2023'). The second youngest on the list is ten years older: Marijke Folkers-in 't Hout (no. 26).

Double diverse
Both women are active in the agribusiness sector. Other sectors could take an example from that. Recent research by consultancy and accounting firm PwC shows that an optimal distribution of different generations in the Boardroom contributes to a higher solvency ratio and thus to a more resilient organization. Age diversity on Boards therefore strengthens the resilience of organizations. This also applies to the Supervisory Boards themselves. They are currently still dominated by the older generations, but their appointment policy can pave the way for the coming generation of Executive managers and Supervisory Board members: doubly diverse. In the coming editions of the Next50, we look forward to a breakthrough in the rejuvenation of Boardrooms.

This article is published in Management Scope 03 2023.