Analysis Top 100 Corporate Women 2022: Moving Towards a New Number 1?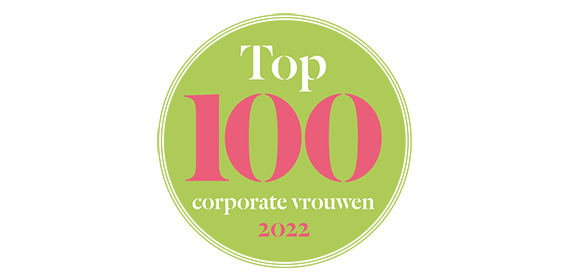 Petri Hofsté is the most influential corporate woman in the Netherlands for the sixth time now, but will that still be the case next year? There is stiff competition in the Top 10. Plus: twice the number of international ladies in Dutch boardrooms, the cautious advance of chairwomen and time for rejuvenation.
Prima inter pares: Petri Hofsté leads the Top 100 Corporate Women for the sixth time with her varied supervisory portfolio. She is a Supervisory Board member at two financials (Rabobank and insurance company Achmea, both cooperatives), soil surveyor Fugro and family business Pon Holdings. She is also Chair of the Board of Stichting Nyenrode, the business university where she studied before starting her career at KPMG, ABN AMRO, RBS, DNB and APG. Hofsté is also a member of the SER Top Women Advisory Board. For many years, she has advocated more diversity in the boardroom and an inclusive culture. As Hofsté recently argued in this magazine, this requires hard work from both men and women, as well as a broad awareness of hidden prejudices. Fortunately, younger generations are giving incumbent directors and Supervisory Board members a helping hand, she told us jokingly: 'My daughter points out my biases, which I seem to hold unconsciously concerning gender and multicultural background. It's an outdated mentality.'
From driver's seat to back seat
Not only the number 1, but the entire Top 3 of the list remained the same as last year. At number 2 we find Miriam van Dongen, Hofsté's fellow Supervisory Board member at Achmea. Almost everything in Van Dongen's portfolio revolves around money, as she also oversees – in addition to the insurance company and the Land Registry – fintech Mollie, high-frequency trader Optiver and spac Spear Investments. In addition, the former CFO of Delta Lloyd and Achmea Zorg was a Supervisory Board member at pension provider PGGM until last year. Insurance and pensions also play an important role for former MEP Corien Wortmann-Kool (no. 3): She was recently reappointed for a third two-year term at Aegon and exchanged her position of Chair of the Board for that of independent non-executive chairman at ABP in early 2022. However, she only made that move after the pension fund decided on a historic change of course – to halt investments in Shell and other fossil fuel producers. From the driver's seat to the back seat – it must have taken some getting used to for Wortmann-Kool. On the other hand, she now has more time to enhance her supervisory portfolio. Since 2021, she has been a Supervisory Board member at DSM – which is set to become a Swiss company thanks to its merger with fragrance and flavoring manufacturer Firmenich – and there seems to be room for new positions over the coming years.

Two-front war
The Top 3 may be occupied by the same trio, but there are changes within the Top 10. PostNL top executive Herna Verhagen – who marginally missed out last year – rose from no. 11 to no. 4 thanks to her new supervisory role at Philips. Almost a quarter (23%) of the shareholders of the medical technology company voted against her nomination, probably because Verhagen currently has her hands full at her own company. The post and parcel company recently issued a profit warning. And then there was the incident at PostNL's Belgian subsidiary, where managers – including the CEO – were thrown into a cell for alleged human trafficking and forgery at the subcontractors they work with. "It is on your mind all day," Verhagen is reported to have said at the shareholders' meeting. The same undoubtedly applies to the Philips board, now that the sleep apnea affair is threatening to turn from a bad dream into a nightmare. A Supervisory Board member who also has a crisis to deal with at home is confronted with a two-front war. Worse still, Verhagen is a Supervisory Board member at ING as well, and ING is being hit hard by the war in Ukraine.

Running to the rescue
Dutch-South African multinational company Prosus is also feeling the effects of the war. Angelien Kemna became a non-executive at the tech investor last year, rising from no. 25 to no. 6 on the list. But Kemna – who also oversees investment bank NIBC, dairy cooperative FrieslandCampina and asset manager Axa – does have some experience by now. She became CIO of pension provider APG in early 2009, in the midst of the financial crisis. Her experience of the crisis is certainly coming in handy at the moment. As a professional Supervisory Board member, she also has her hands free to run to the rescue. The third woman to jump into the Top 10 from a position way down the list is Pauline van der Meer Mohr (from no. 21 to no. 7). She is now in her second cycle as a professional regulator, following a career at Shell, TNT and ABN AMRO. After holding top supervisory positions at chipmaker ASML, fine chemical company DSM and British investment bank HSBC, in 2022 she became a Supervisory Board member at large supermarket group Ahold Delhaize and Chair of the Supervisory Board of chip company ASMI. Van der Meer Mohr is also already Chair of the Supervisory Board of accountant EY, although she will step down from this role at the end of 2022. She is also Chair of the Corporate Governance Code Monitoring Committee and the first woman to hold this position after five male predecessors. And, as of January 1, she is also to become a Supervisory Board member at insurance company NN Group – not yet factored in – thanks to which she has three AEX companies in her portfolio, including a Chair role. Her current position as no. 7 on the list might be temporary as she could be well on the way to reaching the no. 1 position in the future.

25% are Supervisory Board or Supervisory Council Chairs
For a long time, after Olga Zoutendijk stepped down at ABN AMRO, there were no female Chairs of Supervisory Boards of AEX companies. Suddenly, we now have two: Van der Meer Mohr at ASMI and the American Ann Ziegler – who is not on the list, as foreign Supervisory Board members must hold at least two supervisory positions at Dutch companies in order to be eligible – at information supplier Wolters Kluwer. Female Supervisory Board Chairs are few and far between; that position is still usually reserved for a man, especially at stock exchange-quoted companies. Among the mid-cap companies, Hélène Vletter-van Dort (no. 16) is the Chair of the Supervisory Board of Intertrust and a Supervisory Board member of NN Group, where she will meet Van der Meer Mohr shortly. Last year, Marjan Trompetter (no. 47) became the Chair of the Supervisory Board of Rabobank: not stock exchange-quoted, but still a major bank. Of the 100 women on the list, 27 – roughly one in four – hold a Chair position on a Supervisory Board or Supervisory Council. They often work for operating companies, family businesses, pension funds, state-owned companies, public and semi-public organizations and the charity sector. Female Chairs therefore usually operate in the background. There is still a battle to be won there, from the periphery to the center of power. After all, it is in the position of Chair that women can act as role models and to try to make the culture within the boardroom more inclusive. Incidentally, female Supervisory Board Chairs step down from time to time, such as Louise Gunning-Schepers, who recently stepped down at Amsterdam Airport Schiphol. Successor Jaap Winter now has to deal with the chaos and threat of strike action at the airport.

Female duo at the top
The list also includes 18 CEOs. They remarkably often lead companies with a vital social function: Post and parcel delivery, public transport, energy supply, drinking water supply, education, healthcare and pension administration. These women make sure the lights work, make sure water comes out of the tap, make sure you can catch a bus or train, make sure you can go to school or hospital and make sure you are looked after in your old age. Amsterdam's public transport company, GVB, even has a female duo at the top: general manager Claudia Zuiderwijk (no. 14) and Supervisory Board Chair Elfrieke van Galen (no. 55), who previously worked at KLM for 20 years and became a Supervisory Board member at Schiphol last year. Marjan Rintel (no. 57), Chair of the Board of Directors and CEO of NS, who also previously worked for KLM and is returning to the airline 18 months after her appointment at the railways, succeeding Pieter Elbers in the cockpit. In her new role, Rintel will soon meet two Supervisory Board members from our list: Rabobank's CHRO Janine Vos (no. 38) and Marjan Oudeman (no. 52). Oudeman has also previously been a member of the NS Supervisory Board for two terms. Admittedly, that was before Rintel started working for the railways, but she knows literally and figuratively where the new KLM figurehead comes from. Rintel will desperately need the support of her Supervisory Board members in the power play with the French holding company. Fortunately, she also has an anchor in the Board of Air France-KLM: Former Kempen CEO Leni Boeren (back from the sidelines at no. 46, new supervisory roles including at NIBC).

All American girls
The youngest CEO on the list is Hajir Hajji (new in at no. 92), CEO of Action and Supervisory Board member of web store Coolblue. We can't exactly call it a vibrant bargain palace, but with a branch in almost every village in the Netherlands and as a major employer, Action has become an important social factor. And ho knows – maybe owner 3i will eventually choose the Damrak stock exchange and Hajji can join the select group of female CEOs of stock exchange-quoted companies. We already mentioned Verhagen from mid-cap company PostNL. In addition, there are two women on the list of CEOs of AEX companies: British-French-Swiss Geraldine Matchett (no. 27) at DSM – who has to share her position as co-CEO with Dimitri de Vreeze – and American Nancy McKinstry (no. 36) at information supplier Wolters Kluwer. Coincidentally, both are foreign women. McKinstry even forms a top female duo of all-American girls at Wolters Kluwer with Ann Ziegler.

Almost a fifth of the list is not from the Netherlands
And that is no coincidence. Multinationals are more likely to have a foreign CEO – even if it is a man. Companies also still like to look for female directors and Supervisory Board members abroad. The number of foreign women on the list is remarkable: 18, up from 9 last year. Double, in other words. It would be reasonable to assume that this linked to the Dutch women's quota introduced this year and that companies are looking across the border in order to meet the minimum threshold of 33% women on their Supervisory Boards. The quota does not apply to Boards of Directors, by the way. But out of the 18 foreign women on the list, only three are professional Supervisory Board members; the others are all primarily directors. Among the foreign newcomers to the list, we see no fewer than eight new directors in the C-suite, versus only two full-time Supervisory Board members (although the picture may be somewhat distorted, as only foreign women with two supervisory positions at Dutch companies are eligible to appear on the list). The highest entrant on the list is also foreign: Sarah Russell (no. 18). The Australian went on to regulate ABN AMRO and APG. See "Chameleonic regulator who brings the outside in"). The second-highest-ranking new woman is also foreign: Britain's Sinead Gorman (No. 40) succeeded America's Jessica Uhl as CFO of Shell, with London as her new base, where the now British energy group's headquarters are located. It also turns out that headhunters and their clients are now looking beyond Western Europe and America. Women from Croatia, Venezuela and Belarus are now part of Dutch boardrooms as well.

Glass cliff
The Top 100's renewal therefore cautiously continues this year: In total, 23 women are new to the list – two of whom have made a comeback. That is five more than in 2021 and ten more than in 2020. The world has opened up again after the coronavirus pandemic, and so perhaps the same applies to the transfer market for directors and Supervisory Board members? Hilde Garssen (see 'Hilde Garssen: Change Perspective and Vision for Remuneration') is the highest-ranking new Dutchwoman: KPN's Chief People Officer became a Supervisory Board member at TBI last year. The construction company appointed a second woman to its Supervisory Board this year: real estate veteran Karin Laglas (no. 93). Maurine Alma comes in at no. 45: the Marketing Director of meal delivery company Just Eat Takeaway went on to oversee Coolblue last year. So much can change in just a short time: Coolblue called off the flotation process at the last minute and Just Eat Takeaway, the parent company of Thuisbezorgd.nl, got into an argument with angry shareholders due to the unfortunate acquisition of the American Grubhub and the evaporation of a large part of the stock market value. Chair of the Supervisory Board Adriaan Nühn did not stand for re-election just before the shareholder meeting. Who from the Top 100 women dares to succeed him? A good opportunity for a female Supervisory Board Chair of a third AEX company, who is not afraid of a glass cliff. Currently, Vice Chair Corinne Vigreux (no. 50), co-founder and CMO of navigation company TomTom, is doing the honors on a temporary basis. She is also Chair of startup platform Techleap.

Empty seat
While foreign newcomers are mainly appointed to director positions, the Dutch newcomers are entering the Top 100 precisely because they were given their first or an additional supervisory role. Have times changed since Dutch companies preferred to look abroad for female Supervisory Board members as well? That would be great – even more female directors from Dutch soil! In any case, the number of women on Boards of Directors is still very limited, so maybe the quota should be extended to include boards. However, for one in four companies, the Supervisory Board is already challenging enough. About 25% of the over 100 stock exchange-quoted companies in the Netherlands – including Just Eat Takeaway, another reason for a boost in female executives – do not yet meet the quota, according to an inventory conducted by the newspaper NRC in late April. Twelve companies did not have a single woman on their Supervisory Board. If a man is appointed or reappointed while the quota has not yet been met, the threat of an 'empty chair' looms. Even the diehards will need to change their minds over the next few years.

More women than men on the Supervisory Board
At no. 28, we find the biggest riser: former CRO Petra van Hoeken – she held that role at ABN AMRO, RBS, NIBC, Rabobank and Intertrust – became a Supervisory Board member at de Volksbank, after former AGM CEO Gerard van Olphen started with a clean slate, launching a renewed Supervisory Board following a management crisis at the bank. Van Hoeken is also a Supervisory Board member at NWB Bank and a non-executive board member at Nordea Bank. In the latter role, she was until recently joined by top newcomer Sarah Russell, who supervised the Scandinavian bank for 12 years and recently joined ABN AMRO, where she had worked for a long time before. Nordea has previously made advances, albeit unsuccessfully, towards ABN AMRO. De Volksbank's name is also cropping up frequently when it comes to the future of ABN AMRO, of which 56.3% is still owned by the Dutch state. So it's funny – the lines of communication between the Supervisory Board members of the three banks. The second biggest riser on the list is Tanja Cuppen (no. 26), the current CRO of ABN AMRO – see also the interview with Tanja Cuppen on the future of the CRO. She became a Supervisory Board member of cooperative health insurance company Menzis last year. Just like Resi Becker (no. 65), who also became CEO of energy company Essent this year, after a 16-year career at PostNL and most recently served as a member of the executive committee. From ExCo to CEO and from post to energy, it is quite a transition. A third big riser is Heleen Kersten. The Stibbe partner rose to no. 30 thanks to her new supervisory role at Wolters Kluwer. The publishing group's Supervisory Board now contains four women, including the Chair, and three men. Women are therefore in the majority, and the CEO is also a woman. Achieving 30% men will soon be a challenge...

'Saving up' regulatory positions
Almost all the women on the list have 'double the work': 42 women are CXOs and Supervisory Board members. The other half of the women on the list combine one or more regulatory positions with top jobs in science, law or in advisory roles, or are professional Supervisory Board members. The higher their ranking on the list, the more professional regulators and vice versa. Professional Supervisory Board members can 'save up' more regulatory positions than active directors, who are limited by time constraints and the permitted maximum of two regulatory positions. 'Saving up' in this way happens almost automatically, now that there is a women's quota and experienced female Supervisory Board members, who have already 'proven' themselves, are scarce and sometimes receive more requests than they can handle – at the expense of young recruits. The 'golden skirts' therefore take on the sheen of old gold. The average age of the women on the list has risen once again, to 56, which continues the trend seen in recent years. The oldest woman on the list is Annemarie Jorritsma (no. 49, 71 years), Supervisory Board Chair of grid manager Alliander, and the youngest is Natalia Wallenberg (no. 95, 40 years), CHRO of supermarket group Ahold Delhaize.

Gray and white
Of the 23 newcomers, only one third is under the age of 50. Not a single woman on the list is in their thirties – not among the directors and certainly not among the Supervisory Board members. Perhaps there should be a new quota: "each supervisory board should include at least one person under the age of 40", just like the standard in the code for pension fund boards. The majority of these boards do not actually meet this standard, but perhaps there is more enthusiasm and pressure within stock exchange-quoted companies. And if not, perhaps the threat of the empty chair can help accelerate the desired rejuvenation. Not only is the list too gray – it is also too white. Former politician Laetitia Griffith (no. 8, Supervisory Board member at ABN AMRO, TenneT and Gassan) is the only woman of color in the Top 10. Hajir Hajji has Moroccan parents and ABN AMRO's CCO Choy van der Hooft-Cheong (no. 94) is Antillean. So it is only at the edges of the list that we see multicultural backgrounds, excluding expat women. We will repeat it once more: Over the coming years, not only do we need more women at the top of the business world, but Dutch boardrooms also need to be rejuvenated and need to change color.

This article was published in Management Scope 06 2022.