Analysis Top 100 Corporate Women 2023: For the First Time, Not a Professional Supervisory Director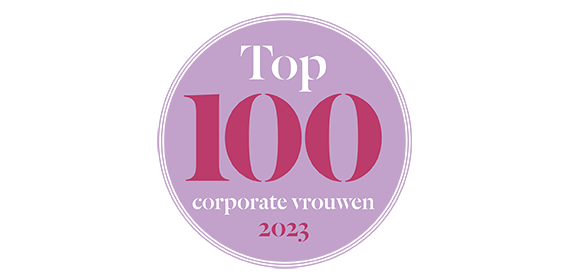 We speculated on a new No. 1 as we compiled last year's Top 100 Corporate Women. It turns out to indeed be the case: PostNL CEO Herna Verhagen succeeds Petri Hofsté as the most influential woman in Dutch business. For the first time, it is not a professional Supervisory Board member but an executive who leads the list of corporate women.
Changing of the guard: PostNL top woman Herna Verhagen is the new No. 1 of the Top 100 Corporate Women. She is the successor to Petri Hofsté, who led the list for six years in a row (and is at No. 3 this time). This makes history: for the first time, the first lady of Dutch business is not a professional supervisor with a supervisory position on every finger, but the CEO of a listed company with only two, but significant, supervisory positions. Verhagen - previously at No. 4 - was reappointed as Supervisory Board member of financial institution ING this spring and took office last year as Board member of medtech company Philips during the sleep apnea affair. At the latter concern, incidentally, nearly 23 percent of shareholders voted against her appointment, as the perception was that Verhagen already had her plate full.
Weekend Supervisory Board member
PostNL had to issue three profit warnings after an overly optimistic assessment of the parcel delivery market and was relegated to the small-caps. Does a CEO with a company in trouble have enough time and attention to help solve a crisis both at home and elsewhere? The top woman herself thinks so: 'Supervisory positions make me a better leader,' she said in Het Financieele Dagblad. And: 'I do all the preparations at the weekend.' Verhagen was recently reappointed as CEO of PostNL for four years. For the time being she will remain a weekend Supervisory Board member instead of a full-time. And with this hope that crisis meetings can be scheduled for Saturday or Sunday.

Photo Finish
Pauline van der Meer Mohr, who is a professional supervisor, is the runner-up. She also holds the second position in the Top 100 Supervisory Board members, where she was both the biggest climber and the highest-ranking woman. Van der Meer Mohr's supervisory portfolio received a makeover last year. She is now a Supervisory Board member of supermarket group Ahold Delhaize, chip company ASMI (Chairman) and insurer NN, after reaching the end of her terms at biotech and food ingredient producer DSM (then without merger partner Firmenich), British bank HSBC and accounting and consulting firm EY. That adds to the interest of the supervisory role: the periodic refreshment opens the door to other Boardrooms and new sectors. For executives, that latitude is more limited. Van der Meer Mohr now supervises three AEX companies, she is also Chairman at one of the companies. It could be a photo finish with Verhagen. Both women could be declared co-captains of the Top-100: one in the category of Supervisory managers, the other in the category of professional member of the Supervisory board.

Duo without a partner
Duo leadership is no longer uncommon, after Dimitri de Vreeze and Geraldine Matchett (No. 32) were named co-CEO's of DSM by the Supervisory Board members (including Van der Meer Mohr at the time). This two-headed leadership is coming to an end because it would make the integration of the Dutch group with the Swiss Firmenich too complex. De Vreeze will lead the combined company while Matchett will leave. This is a misfortune from a diversity point of view as it means one less female CEO and we already have so few. This poses the question whether Matchett will be back on the list next year. But the Swiss/French/British could add a number of weighty Dutch Supervisory Board member positions to her existing role as Non-Executive of Swedish-Swiss industrial group ABB. She had the opportunity to build a network here for ten years.

Five-time Chairman audit Committee
At No. 6 we find the highest entrant: Carin Gorter. She also figured on the list in 2015 and has now made a welcome comeback. The former banker owes this primarily to the number of Supervisory Board positions she holds. It counts five, including three at listed companies: electric bus manufacturer Ebusco, legal expenses insurer DAS, technology company TKH, fitness center operator Basic-Fit and TVM insurance. In addition, Gorter oversees the Dutch Transplant Foundation. She is Chair of the audit Committees at all five Supervisory Boards and is a member of the external audit Committee of the Ministry of Justice and Security. A real figurehead. In the coming years, audit Committees will also have to measure and monitor non-financial KPIs for adequate supervision of the sustainability of Dutch companies. This will be a complex transformation, and this in five-fold. The question is whether there should be a limit on the number of Chairmanships of such an important Committee because of the intense time commitment. Or does it in fact create a synergy?

Executive drain drips on
Gorter's high audit factor has everything to do with her financial background: she began her career at Rabobank, followed by more than a decade at ABN AMRO. In 2016, Gorter would have become CRO at Rabobank, for which she gave up her Supervisory Board position at ING. A few days before taking up the position, however, she suddenly withdrew. Since then, she has been focusing on her supervisory portfolio. In her place, Rabobank appointed Petra van Hoeken (No. 18) - then NIBC CRO - who, three years later, moved on to trust office Intertrust and then to professional Supervisory Boards (at Volksbank, among others). The drain on top women as executives continues. Another example is Thessa Menssen (No. 19): she is celebrating her lustrum as professional Supervisory board member this year, after a career at Unilever, Port of Rotterdam, and construction company BAM. At the latter company, she stepped down as chief financial officer in 2018 because 'for the further implementation of strategy, a different profile in the CFO position was desired,' according to the press release at the time . Since then, Menssen has built a solid portfolio: this year she added a Supervisory Board position at industrial technology group Aalberts to positions at IT service provider Ordina and grid operator Alliander, among others. This makes her the biggest climber and promotes her from the second half to the first quarter of the list.

CXO as well as Supervisory Board member
The list does not only include professional Supervisory Board members, quite the contrary. A substantial proportion of the women (especially the younger ones) combine the Supervisory Board membership with a role in the c-suite: about a third (35) are 'double busy'. Among them are 12 CEOs, which again is about a third. Furthermore, seven women combine supervision with a primary position in science, law, or consulting. In total, the number of active Supervisory Board members is roughly equal to the number of 'professionals'. However, the professional Board members do dominate the first quarter of the list; managers cannot 'stack' because they are bound by the maximum of two Supervisory Board memberships. However, list leader Verhagen shows that manager-Supervisory Board members can also become No. 1, provided the two ancillary positions are significant enough. The Top-100 also includes 13 women who hold only an executive position and apparently have no time or ambition for a Supervisory Board position in addition to that. Eight of these are women from countries other than the Netherlands. Do they have their hands full with their own companies, or are they not sufficiently involved in local networks to be asked for supervisory positions at other Dutch companies?

Newcomers back to post-corona level
Back to the newcomers and returnees: there are 16 this year; last year there were 23, with a catch-up of appointments after two corona years. Post pandemic, the hiring and resignation rosters seem to have normalized again. With 16 percent renewal, the list is only sparsely refreshed, despite the women's quota: at least one-third women on the Supervisory Board. Once a company has a coveted female Supervisory Board member (or executive), it apparently anxiously tries to retain her for at least two terms. Moreover, they regularly shop across the border for female executive and supervisory talent. A quarter of the newly listed women on the list come from countries other than the Netherlands, such as the second highest entrant, Alexandra Reich (No. 22, see also: 'Telecom titan, anti-boss and crazy mom'). The Austrian was appointed Supervisory Board member at ING this spring. At the same time as Reich, former Van Lanschot Kempen CEO Karl Guha was nominated as a Supervisory Board member, with the intention of having him succeed Hans Wijers as Chairman of the Supervisory Board on July 1. As a result, however, with three women to ten men, the Supervisory Board would temporarily fall short of the quota. An embarrassing mistake. So, Guha's appointment was postponed for a few months. Earlier, there was also fuss about the women's quota at SnowWorld and at Just Eat Takeaway. The meal delivery company opened the supervisory trick box and first appointed Belgian Trustpilot-CCO Mieke De Schepper (new in at No. 40) at the shareholder meeting, so that for a moment the quota was met, and the way was clear for the appointment of former Ahold Delhaize CEO Dick Boer as (Chairman) Supervisory Board member.

Non-Dutch executive becomes non-Dutch Supervisory Board member
At No. 26 we encounter a familiar name: Nyenrode professor Annemieke Roobeek makes her return to the list with a Supervisory Board position at Randstad Netherlands (she already supervised energy company Eneco, among others). We did not expect this supervisory veteran with her wealth of experience at the Dutch operating company of the staffing company (or else at least as Chairman of the Supervisory Board), but at the parent organization. Randstad did appoint French Laurence Debroux (No. 41) to the holding company's Supervisory Board this spring. She left prematurely as CFO of beer brewer Heineken two years ago after Dolf van den Brink reshuffled his court as the new CEO. But a connection apparently remained between the Frenchwoman and our little country, as may prove to be the case with DSM's Matchett as well. Non-Dutch executives can evolve into non-Dutch Supervisory Board members: they have the desired international experience, but also the knowledge of Dutch culture and governance mores and a good local network. Debroux also became a Supervisory Board member at Exor Netherlands last year, but of course the Amsterdam-listed investment company of Fiat founder family Agnelli does not really have an orange tinge.

New woman in Executive Board? Search in your own Supervisory Board!
Also new on the list is ANWB top woman Marga de Jager (no. 57): she recently became a Supervisory Board member at KPN. The Chairman of the Board of Holland's largest association (five million members) now co-supervises the country's largest telecom company (more than ten million mobile subscribers, according to her own statement). In terms of scale, the match is a good one, although the dynamics of a listed company may take some getting used to. Although: De Jager was previously also director of the Emergency Centre, so the Formula 1 fan is familiar with rapid reaction in crises. De Jager succeeds Chantal Vergouw (no. 87) at KPN. The former top woman at insurer Interpolis made a transfer: from the Supervisory Board to the Executive Board of the telecom company, where she became Chief Business Market. Vergouw succeeds Marieke Snoep (no. 94), who became responsible for the consumer market within the KPN Board and thus went from B2B to B2C. The Supervisory Board need not search for a manager in the market if they are already sitting at the Boardroom table. Sometimes the Supervisory Board itself serves as fishpond.

Time for the next shift
To stay with the Supervisory Board of KPN for a moment: Claudia Zuiderwijk stepped down as a Supervisory Board member after two terms, causing her to have the biggest drop on the list (from No. 14 to No. 65). She is still a member of the Supervisory Board of administrative organization APG, however, where she and fellow Supervisory Board member Sarah Russell (No. 16) must oversee how CEO Annette Mosman (No. 25) is leading the complex transition to a new pension system. Incidentally, Zuiderwijk's second term at APG expires at the end of July. The top woman at GVB, the transport company of the municipality of Amsterdam, will have capacity again for one to two new Supervisory Board memberships. It seems as though women tend to take on Supervisory Board memberships relatively young (either combined with an executive position or as professionals), their supervisory careers often have multiple shifts, as became apparent with Van der Meer Mohr.

Limited young blood
Is the up-and-coming generation of women still getting a chance to secure a position in Boardrooms (and thus on the list)? As previously commented, there is little flow-through, especially in the upper echelons. Among the new and returning candidates, there are only four people in their forties (most of whom are already heading toward the Big Five O). In the overall list, the average age is 56.7 years. In 2022 it was just 55, more than half a year difference. With that, the powerful women became a little older again. The aging trend of recent years continues unabated. Nearly six out of ten women on the list are now 60 years of age or older, over a third are fast approaching fifty something and only one in ten are in their forties.

A difference of 30 years
The oldest woman on the list is 72: Annemarie Jorritsma (No. 52). The VVD-prominent is, among other things, chair of network operator Alliander, where her second term expires next year. Jorritsma does not appear to be done with supervision for the time being: the septuagenarian just last year accepted a new Supervisory Directorship at vacation park Roompot (an investment by investment company KKR) and a year earlier a supervisory position at Wilgenhaege Capital Market, following on from her role as Chairman and figurehead of the NVP, the trade association of private equity investors and venture capitalists. The youngest woman on the list has more than 30 years less on the counter: Natalia Wallenberg (No. 96, 41), CHRO of supermarket Ahold Delhaize. These are the coordinates of the development of the rise of women in the Boardroom over the past few decades. The pioneers of the time paved the way for a new generation of women in Dutch Boardrooms, who can boast managerial experience and often combine a position in the c-suite and Supervisory Boards. At the same time, the established generation stays on for a long time, making it more difficult for the new arrivals to advance to top Supervisory Board memberships.

Almost one in five is from outside the Netherlands
There is also the competition from women from other countries. Nearly one-fifth (18) of the women on the list are not from the Netherlands. About two-thirds of them are managers and only one-third are Supervisory Board members. While that picture is distorted (non- Dutch women must hold at least two Supervisory Board memberships at Dutch companies to qualify for the Top 100), there seems to be an underlying trend: female Supervisory Board members are more often than in the past drawn from their own countries, for managers the (Western) world is still the hunting ground. Wallenberg is Belarusian, ING got their CRO from Croatia with Ljiljana Čortan (No. 68), and at insurer Aegon all four women on the management Board have an international background. Allegra van Hövell-Patrizi, CEO of Aegon Netherlands, is Italian-Belgian, the CTO is from the United States (Debbie Waters, No. 67), the CRO from Germany (Astrid Jäkel, No. 75) and the CHRO from Italy (Elisabetta Caldera, No. 77).

From Dutch clay
To scout managers from outside the Netherlands, does carry some risk. For example, Natalie Knight (No. 81) is stepping down as CFO of Ahold Delhaize after only three years. The American took the decision 'to move her family back to the United States after more than 25 years in Europe,' according to the press release about her departure. Meanwhile, just to be on the safe side, the mass retailer has pulled her successor back out of Dutch clay: Jolanda Poots-Bijl (No. 17), currently still CFO of family dredger Van Oord and Supervisory Board member of paint group AkzoNobel and car importer and bicycle manufacturer Pon Holdings. There is also a Dutch person in the international Philips top structure: Hinke Malda (new in at no. 92 and at 45 the second youngest woman on the list) fulfills the role of Chief of Staff, a kind of liaison officer between the top and the rest of the organization. Before that, she spent more than a decade at DSM. Malda is also vice Chairman of the Supervisory Board of Fontys Hogescholen, but there seems to be untapped potential for even more substantial supervisory positions. Corporate Supervisory Boards can only benefit from experience matured through a deep crisis like the one at Philips. Moreover, it is helpful if a Supervisory Board member knows how to monitor the quality of leadership, strategy execution and decision follow-up.

Regretted losses
French American Sophie Bechu, who as Philips COO was the person most responsible for quality control, had to resign because of the sleep apnea affair. Last year she was still at No. 86; after stepping down as operations manager, she did not return to the list. When the machine falters, the blame falls on whoever oversees the nuts and bolts. Hanne Buis, last year at No. 29, will not be back either: after Dick Benschop left as CEO of the Schipol group, his crown princess also left as COO, due to a conflict with interim CEO Ruud Sondag. The crisis manager was hired by the Supervisory Board to put an end to the problems at the airport: long queues, cancelled flights, and a luggage catastrophe. Perhaps Buis – only 46 - will make a comeback to the list of new Supervisory Board memberships in the coming years in addition to her current supervisory position at Stedin, but preferably, of course, as an executive. It is also questionable whether we will still see Conny Braams (No. 91) in the Top-100 next year: she will retire early in August as Chief Digital & Commercial Officer of British Unilever. This marks the end of Braam's career of more than three decades at the food group. No happy ending for the veteran and former in-house CEO candidate, after Supervisory Board members appointed outsider Hein Schumacher of dairy giant FrieslandCampina to the top position. But who knows, the 58-year-old Braams may be embarking on a second career as a top Supervisory Board member, which could see her rise significantly on the list next year. Femke de Vries (No. 97, see also: 'Ex-external supervisor lays uncomfortable truths on Boardroom table') will nonetheless finish higher next year: she will become a Supervisory Board member at ABN AMRO (not yet included).

Fewer female Chairs
One-fifth of the women on the list (21) are Chairs of a Supervisory Board. This is down from last year, when the tally stood at 27, or more than a quarter. More female Chairpersons dropped from the list than were added. Corien Wortmann-Kool (no. 8), for instance, is no longer Chairman of ABP's (Non-Executive) Board of Trustees. Furthermore, Hélène Vletter-van Dort (no. 39) stepped down last year as Chairman of the Supervisory Board of Intertrust, which disappeared from the Amsterdam stock exchange after a takeover. In return came a new figurehead for female Chairmanship: Van der Meer Mohr, as chair of ASMI. This is noteworthy as at AEX companies the role of Chairman is usually reserved for men. The second exception to that rule is the American Ann Ziegler (not on the list) at publishing group Wolters Kluwer. Together with the also American CEO Nancy McKinstry (no. 33), they form a female force. Female Chairpersons are also still being sought at banks, after Olga Zoutendijk left ABN ARMO after only two years in that role. It is now five years later, but little has changed since then, although Rabobank does have a woman as Chairman of the Supervisory Board with Marjan Trompetter (no. 45). The breakthrough of the female Supervisory Board Chairman is therefore still some way off, especially in the large, listed companies. If women already hold the role of Chairman, it is usually in operating companies, family businesses, pension funds, public and semi-public organizations and in the charity sector. We do see more women as vice Chairs of the Supervisory Board and as Chairs of Committees within the Board.

Multicultural quota?
Another breakthrough waiting to happen is multicultural diversity. Where are the women of color? The Top-100 is still a white bastion, with former politician Laetitia Griffith (No. 9, with Supervisory Directorships at ABN AMRO, grid company TenneT and diamond merchant Gassan) as the only woman of color on the list. Last year Griffith was joined by Action CEO Hajir Hajji, child of Moroccan parents. This year, however, Hajji did not return to the list because her Supervisory Board membership at webshop Coolblue was short-lived. Choy van der Hooft-Cheong, CCO Wealth Management at ABN AMRO, also just fell off this year's list. The Antillean was recently appointed Chairman of the Board of diversity platform Talent to the Top. She wants to champion equal opportunities for all - regardless of background, beliefs, or preferences - and help make the top of the business world more inclusive. In her own words, 'Even at the top, it is important that everyone feels seen, heard and valued.' We have little to add to that. Perhaps it is time for a quota for multicultural backgrounds, starting in the Supervisory Boards? Next year 10 percent color in the Top 100, deal?

The Top 100 Corporate Women was compiled by Timen Kraak. For the systematics used, please refer to the justification at the bottom of the list. This article was published in Management Scope 06 2023.