Towards a Transparent, Resilient and Sustainable Supply Chain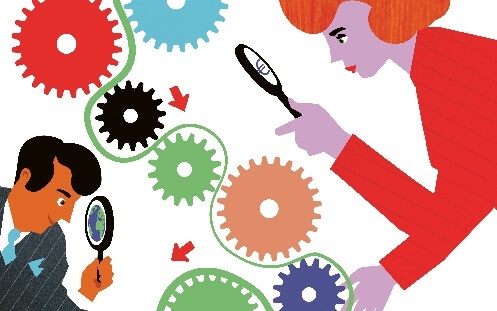 Chains that are transparent, resilient and actually manageable due to extensive digitalization, chains with chain partners that create concrete added value separately and jointly: at the moment this is a distant prospect, but companies are taking resolute action to get there. The need for supply chain transition is widely supported, write evofenedex directors Machiel van der Kuijl and Johan Kerver, who also have advice for setting up a sustainable supply chain.
Pandemics, war, geopolitical tensions and energy transition again confirmed the importance of a good supply chain. But how to achieve a sustainable supply chain now? What does the supply chain of the future look like? What conditions will supply chains have to meet, and what actions could or should organizations now take as the first steps toward that future? Management Scope recently spoke with several supply chain experts. The conversations provided a clear picture of supply chain thinking in the Netherlands , with many positives, but also with many challenges.
On the positive side: supply chain is in the spotlight more than ever. There is virtually no company in the Netherlands not working on improving its supply chain. Often, by necessity. Successive crises forced us to face the facts. The pandemic caused stocks to stagnate, the war in Eastern Europe caused energy prices to rise, and geopolitical struggles and protectionism created a great deal of uncertainty about the future of the global market. Nearly all directors are looking for possible improvements and increased sustainability, in part as a result of the aforementioned. We were told that in 'supervisory board classes', where young Supervisory Board Members are trained for supervisory careers, the debate very much centers around 'the future of the supply chain'. The causes might not exactly be joyous, but the resultant focus on improving supply chains do seem positive.
Even more positive is the fact that companies in the Netherlands are already taking both big and small steps to improve supply chains. This was brought in motion by the current developments and increased legislation and regulations. Cautious targets are now being set in the supply chain area. Moreover, the need for transition is widely supported. From the interviews we conducted, it appears that basically everyone is convinced that the supply chain must be adapted to the requirements of tomorrow.
Some legitimate questions do not yet have conclusive answers
There is still much to be done and a number of significant challenges remain. We spoke to many executives who are quite willing to proceed with the transition but feel unable to do so for various reasons. They are too busy with risk management and compliance. Or they are stuck with a lot of "how-to" questions which are not easily resolved, especially not with the unceasing rumble of day-to-day operations. How do you alter the supply chain to be more sustainable? How do you shorten the chain? How do you get your people on board? How do you make sure you keep the business running while you are changing? These are extremely legitimate questions. And in all honesty, we do not have immediate answers to many of these questions. However, we can draw a number of tentative conclusions from our conversations and provide a number of handles that directors can use when taking the first steps towards the supply chain of the future.

It starts with vision
Our information indicates that company directors are mostly busy with 'today' and at best, with 'tomorrow'. Time to think about 'the day after tomorrow' is lacking. Supply chain discussions still too often revert to 'yesterday's solutions'. That most probably does not lead to a sustainable solution. As far as we are concerned, this presents the greatest challenge, as the challenges of the day after tomorrow automatically become the challenges of today. The most important condition for a sustainable supply chain - with the word 'sustainable' read as its original meaning, i.e., future-proof - is therefore a clear vision. The Board of Directors and the Supervisory Board will have to have a fundamental conversation about what exactly their company's reason for existence is, where they want to go with the company, what the purpose of the company is and what the culture of the company is.
That purpose and culture must then clearly echo in the supply chain. There must also be a strategy in the supply chain. As a company, you choose parties and producers that share and endorse your values and standards, parties that help meet your ESG targets or lower your carbon footprint. Poor labor conditions or environmentally polluting practices upstream in the chain, affect parties downstream. The time when the main focus in the chain was on profit - sourcing raw materials and semi-finished products at the lowest possible price - is indeed past.

Heading in the same direction
Another important point is alignment. For the culture and purpose of a company to 'stand', they must be aligned. The strategy must be supported in the organization, not only at the level of the Executive Board or Supervisory Board, but also in the layers (much further) below. Management must ensure that culture is more than ticking-off of boxes. Attention to leadership is important here. We have noticed in our conversations that some people flinch at the term transformational leadership, but at least make sure that the people at the top 'live' the vision. Provide strategic thinking and visionary (or forward, 'transformational') leadership. It can clear the way for new generations. Our conversations show that young people are often intrinsically motivated to get started on a company's purpose, so ensure that they are involved in the supply chain discussion.

And now for some specifics
The above recommendations may be somewhat abstract. Fortunately, there are also more concrete ideas which can have an impact on the supply chain on the shorter term. Most important: digitalize. You can only improve a supply chain if you know where bottlenecks are, if you know where transportation stalls, if you know where most fuel is consumed, if you know where the costs lie. This requires usable data, and this is only obtained through digitalization. Digitalization quickly leads to a more transparent chain. And transparency, in turn, leads to more agility and flexibility. Ultimately, the more agile the chain, the better.
Much more exciting is the idea of more direct cooperation, even with competitors. Whereas relationships between chain parties are often transactional in nature, examples from our practice show that a relationship based on structural cooperation yields better results. Until now, we mainly wanted to outwit our competitors. We now know that in many cases it is better to work together. Several companies may be sharing the same raw materials resources. In that case it can be very advantageous to join forces and make agreements about a sustainable way of joint sourcing and transport.
Within the company, it will be necessary to work on 'chain knowledge'. We found that there are few people in organizations with the ability to oversee the entire chain. Companies are often large and complex; decisions are taken across multiple axes. Insight and control are often limited to within a department. This frustrates supply chain discussions. It is therefore smart to bring people from various disciplines in the organization together in integral teams and thereby increase chain knowledge. The Supervisory Board has an important role here to drive and guide the process.

The dot on the horizon
The supply chain of the future must focus on purpose as well as profit. Not purely the best in the world, but equally the best for the world. Chains in which social innovation, agility and brainpower of new generations are given space. Chains with an open, socially safe, inclusive culture, rich in diversity. Chains that are agile, that through re-, near- and friend shoring can actually be concretely rearranged when geopolitics, climate, customer behavior or health issues demand it. Chains that are transparent, resilient and concretely controllable through extensive digitalization. Chains with chain partners that create tangible added value individually and collectively... at present, these are fine words or an ambitious prospect. We are, however, pleased that the business community in the Netherlands is open to taking clear steps towards this future, that we saw great examples of companies already engaged with the future, that we spoke to committed managers who want to take the lead. We look forward to sharing the way forward with them.

Essay by Machiel van der Kuijl, Managing Director of business association evofenedex and Johan Kerver, member of evofenedex's Management Team and responsible for digitalization and supply chain. Published in Management Scope 01 2023.