Céline Caveye (Fagron): 'You Need to Soak Up the Company Culture'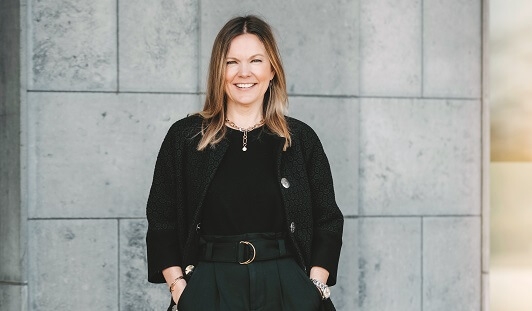 Now that the advice to work from home has been dropped after the two-year COVID-19 pandemic, Fagron's Global HR Director Céline Caveye wants to entice employees to go to the office in person more often. 'In the war for talent, the company culture can really help an organization stand out, but it is difficult to truly experience that culture when you are working from home.'
As an HR manager, how have you dealt with the coronavirus crisis? Various executives have discussed this issue with Management Scope over the past two years, including Céline Caveye from Fagron. Fagron is a pharmaceutical compounding company with over 3,000 employees, offices in 19 countries and product sales in 35 countries.
At the time, the Global HR Director was remarkably cautious about working from home on a regular basis and wanted to "carefully consider" the post-coronavirus policy surrounding the issue. Now that the advice to work from home has been dropped, it is time to take stock. Have there been any progressive insights? This time, the interview does not take place through Teams as previously, but face to face at the new Fagron head office on the 14th floor of a multi-tenant business building in Rotterdam Kralingen. The move in August 2021 involved cutbacks in terms of floor space. However, Caveye is keen to stress that the move was not prompted by the fact that the more than 70 employees were working from home more regularly. 'We used to be in a building with three floors, spread over two wings. Sometimes you worked in your own wing all day and only met certain people at lunch. Collaboration and communication are very important to us, and so we wanted a building where the spaces naturally flow into each other. This will allow for more spontaneous meetings, for example in the central lobby where everyone enters the building. When you are looking for new premises, you will of course factor in the number of people working from home and how that affects the required floor space.'
The advice to work from home has been dropped, but the cabinet is calling on employers to discuss hybrid working with employees. How has Fagron dealt with that, and what is it doing now?
'During the pandemic, we were not as strict as many other companies. We always interpreted the advice to work from home merely as advice, rather than an obligation. The head office was only closed in the early days of the pandemic. After that, everyone was free to choose between working from home or coming to the office in order to maintain the company's daily operations as much as possible and prevent people from becoming hermits. In fact, we pretty much automatically managed to achieve a good balance and it was never too busy.
We now feel it is important that people return to the office, although things will not be exactly the same as they were before. Before the coronavirus pandemic, we had already begun developing a policy that facilitated working from home in certain departments, but at the time this was considered to be more of a perk of the job. Now it is a given, and anyone from any department is allowed to work from home for a few days per week. There is a big difference. Of course, working from home has to align with your role. Employees in departments such as production, logistics and quality control have to be physically present on the shop floor, as are receptionists who need to welcome guests. Another limitation is that we require everyone to be present in person at least three days per week. This also applies to part-time employees who only work four days per week. It is up to the individual departments to make further agreements. There may be a specific day on which everyone has to be present in person, for example, or it may be up to the individual to decide when to work from home. Of course, working from home for the day should not involve looking after the children, but we assume that the supervisors monitor this. Setting specific rules for things like that is not how Fagron works. We give you a lot of freedom as well as a lot of responsibility.

In a previous interview, you expressed your concerns about working from home on a regular basis. What were reservations, and do you still have them?
I strongly believe that the social aspects of work and everything that comes with it, such as the creativity released, the energy you get from personal contact and the connection created with the company are extremely important. Particularly during the onboarding process, it is important that people are here in person, that they get to know everyone and that they soak up the culture. There is an unprecedented war for talent going on at the moment, and some employers even bid against each other on salary and employment terms. Company culture is one important way in which an organization can truly stand out, but we have not been able to focus on that enough over the past two years. Culture is something you have to experience. As I said, you need to be able to soak it up, and it is difficult to do that from your home office. Some of the people we hired over the past two years have already left us. I am convinced that they would not have left – or fewer people would have left – if they had been at the office more often. For us, the biggest post-pandemic challenge is to strengthen commitment to and connection with the company. We really want to focus on this over the coming period. People have to enjoy coming to the office, as otherwise their relationship with us becomes purely a business relationship that lacks spirit.'

How would you describe the culture at Fagron?
'We really feel we are all in this together. That is also part of our purpose – together, we create the future of personalized medication. This cultural fit is very important to us. Both in recruiting people and in performance appraisals, we directly and indirectly assess employees based on our core values of entrepreneurship, flexibility, fast delivery, autonomy and responsibility. Although we are a very diverse company, with up to 20 nationalities at the head office, we share the same DNA that either clicks or clashes. You either love it or hate it. Our external recruitment agencies are also very well briefed on the DNA that we are looking for. That is why, during the pandemic, we tried to avoid hiring people purely based on interviews through Teams. We always made sure that some sort of contact took place to assess whether that click was there.'

Research shows that most employees embrace hybrid working and are happy to work from home for one or two days per week. Does that make it harder to achieve the connection and commitment you desire?
'You definitely have to make a more conscious effort to connect. Just before the coronavirus pandemic, we introduced Workplace by Meta, a Facebook-like app for corporate communication. We were very happy to have that during the pandemic because it helped to bring our culture into people's homes. Nowadays, we particularly encourage local supervisors to increase their efforts in the area of internal communication through information sessions, town hall meetings, lunch sessions and fun events. This is very different from how things were before when we had the standard Friday evening drinks. Sometimes, we would celebrate someone's big work anniversary or throw a leaving party, or there would be themed get-togethers or spontaneous meetings. Now, Friday is a designated working from home day for many people and the office is pretty much deserted. So I do not think we are going to see the return of Friday night drinks any time soon. This means that we need to organize something else instead.
We are also still struggling with meetings in the new situation. I live in Belgium where I work from our office a couple of days per week, so my team is used to me not always being present in person. But by now, almost all meetings in all departments are hybrid and there are always one or two people joining online. That is the new reality, but it is far from ideal and not always easy. Some people who join through Teams switch off their camera, and it feels like you are talking to a screen. You wonder if they are doing something else in the meantime. I do talk to people about it, but perhaps we should tighten up our etiquette in that respect.'

During the pandemic, many companies announced their intention to reduce mobility in the future, now that it has become clear that a lot of things can be organized remotely and awareness of the effects of mobility on sustainability has increased. What steps is Fagron taking in this regard?
'We have not had to adjust our targets, as they were already ambitious. We have an electric vehicle fleet, which is great considering the current energy crisis. Increasing numbers of employees travel by public transport and can opt for a mobility budget instead of a company car. We also have clear KPIs in terms of CO2 emissions, linked to bonus-malus agreements. Part of the bonus of the leadership team and the business leaders therefore depends on achieving sustainability targets. Those who achieve the targets receive 10% extra pay, while those who do not achieve them receive 10% less. The aim of that is to encourage everyone to factor sustainability into every decision they make, from booking airline tickets to setting up a building.
It is great that the coronavirus pandemic has pushed the mindset in this area in the right direction, so that we do not need to raise the issue as often. As far as flying is concerned, for me it is important to find the right balance again. We will certainly continue to fly less, but sometimes it is important to make that personal connection with other countries and branches, especially for a number of positions at the head office. There is a lot of power in human encounters.'

At the start of the COVID-19 pandemic, there were no ready-made plans for HR policy in crisis situations. Is a policy plan now in place for when a new, perhaps more serious variant of the virus emerges in the autumn?
'Our experiences over the past two years have definitely ensured we are better prepared than before, when it was really trial and error and we had to take all sorts of decisions very quickly on an ad hoc basis. At the same time, I do not believe in a ready-made policy plan. Anyone who develops a policy now does so in a vacuum. If a new outbreak is similar to one we have already experienced, we can quickly shift gears and fall back on the measures that worked previously. If the situation is completely different, we will once again have to form an ad hoc response.
Fagron operates in 35 countries, and at the beginning of the pandemic we wanted to take an overarching approach to the crisis, with global policies, guidelines and communication. It soon became clear that this did not work. While the virus was spreading across Europe, it had not yet reached the United States. When we emerged from the first wave, Latin America was still in the thick of it. In the Netherlands, privacy laws prevented us from asking employees about their vaccination status. However, in some US states, the vaccination program was actually the employers' responsibility. There were so many different speeds, circumstances and legislation that it was better to leave the approach to those responsible on a local level. Shifting to local policies also aligned with our culture better. Even though we are a global family, our philosophy involves only tackling together the things that are necessary, useful or possible. In all other cases, we let go. That also applies to the ongoing crisis in Ukraine. We have branches with large groups of employees in Poland and the Czech Republic. Due to their location in Eastern Europe, those branches are much more directly involved in the war than we are at the head office. The managers of those branches are currently considering opening up some vacancies to Ukrainian refugees, despite the vacancy freeze there. This is something we encourage and we will be communicating about, but we are going to let the local management teams make autonomous decisions on the matter.'

This interview was published in Management Scope 04 2022.
This article was last changed on 19-04-2022