Bill Baker (Wolters Kluwer) Focuses on Connection and Interaction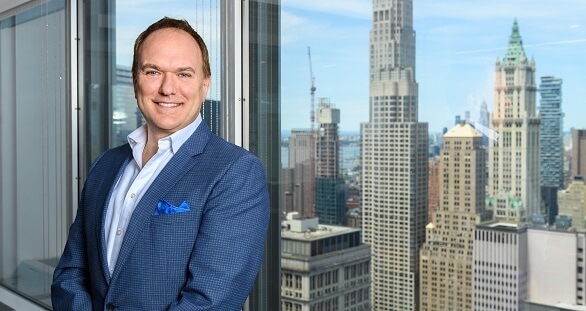 Bringing employees together also means collecting expertise and letting creativity flow. In the eyes of Bill Baker, CHRO at Wolters Kluwer, returning to the office is therefore a precondition for success. At the same time, people value flexibility. Baker is for this reason constantly looking for ways to maintain the connection. 'It certainly makes it necessary to think through how you structure your work so that people are going to be present and available.'
How do you create a balance between flexible working and maintaining a sense of community? More than two years after the arrival of the coronavirus pandemic upended the way we work, Bill Baker, Chief Human Resources Officer at Wolters Kluwer, shares some of his experiences and advice – from cultivating diversity and organizing health expert Q&As to inviting an ice-cream truck to the office. He is in conversation with Stefan Duran, Branch Head Benelux of Insurance Company elipsLife.
While we are not fully post-pandemic, you could say the world has normalized in many countries. How is the situation within Wolters Kluwer currently?
'I think people are enjoying a stronger sense of normality than we have had in a very long time and that creates the opportunity to get together again. Speaking for myself, I know I'm enjoying seeing colleagues again and doing a bit of traveling and being with teams.
But I also think it is important to recognize that we have got to stay diligent. We continue to have our risk management infrastructure in place and continue to monitor what's going on around the world. I would say we have a strong sense of cautious optimism. We are looking forward to things getting back to normal, but the health and safety of our employees and our customers remain the top priority.
What we have shown throughout all of this is that our employees are super resilient, and that flexibility works in our organization. What we also know is that having the right balance of being flexible and being together is good for our business. It is easier to maintain relationships virtually than to start them or deepen them, and that is a key message about why we are excited to have people spend time together.

Do you have difficulties in getting people back to the office or is it more that you have to keep people from coming back too fast?
'We have an expansive workforce in many countries, so the reactions have been different depending on differences in the way people like to work and the particular conditions in a given country.
Overall, we are pacing ourselves in coming back to the office. It has not been a big rush, but we are in the process of returning to work in accordance with our flexible work policy. And we are trying to make sure that it is compelling to come back – that the experience is different when you are together than it would be if you were at home. Our reasons for coming back are really about collaboration, building community, and cultivating a sense of belonging.
As a company, we are planning a 'welcome back' event later in June, so we are building some excitement around it.'

What kind of events are you organizing to compel people to come back?
'It is part business and part social. We want to create a business experience that feels different than sitting on Teams, and we also want to create opportunities for people just to catch up. In the business environment, there are Code Games, hackathons, and brainstorming sessions for product ideas – things that are difficult to do as robustly remotely. So, we are trying to make these part of the back-in-office experience. But also, you know, why not do things like have an ice cream truck if that works in your location – something that helps people gather and just have time to chat and catch up? It is a bit of both.'

In the US, Wolters Kluwer's response to the pandemic won an award for "Most Innovative Work from Home Plan." What elements from this plan are you taking into the post-pandemic world?
'As an organization, we have always been pretty flexible, but the pandemic solidified the need to be a little more structured about how we implement that and how we make flexible working available. So, we structured a program. We piloted things and figured out what works, and we then settled on a combination of flexible work options that seemed to resonate most with employees. It is important for us have a program that we can communicate about broadly as a benefit to employees, and to make it available across the organization. And that is intended to be part of our benefits portfolio going forward – it is not a pandemic-related benefit.'

How are you going to create that balance between flexible working and cultivating a sense of community?
'Coming together on a regular basis for meetings or events will be something that we want everybody to be prepared to do. The most common flexible work option is to work away from the office up to three days a week and then structure time together the other two days, working with their management to make sure to leverage the time together to be as meaningful as possible.'

Flexibility can make it more difficult for team leaders and managers to plan and to work with their team. How do you support them with this?
'I do not know if it makes it more difficult, but it certainly makes it necessary to think through how you structure your work so that people are going to be present and available. For example, leaders could make sure their teams' days together will be days with staff meetings or one-on-ones or business reviews. We are looking to align to regular events that happen as part of running the business – events that bring people together and give a sense of purpose, because you are there with other colleagues to accomplish something – more than just an information exchange that you can just as easily do on a virtual platform.
These are the things to consider as you think about creating meaningful opportunities for people to come together, because we do want to cultivate that sense of community, we do want to cultivate a sense of belonging. And that is really the power of being back together, to innovate and be creative.'

What challenges did you initially need to address in the transition to flexible working from home?
'When the pandemic started, 95 percent of our workforce was working from home productively very quickly, so we knew we could do it. Bringing people back for in-person time as part of the work week is not about productivity or whether people are staying busy or have the direction they need to accomplish their goals – we know our team can work from home and be productive, particularly given the acceleration of digitalization and tools available that resulted from the pandemic. But what we also know is that it is harder to cultivate community and connection when everyone is fully remote. We hired thousands of people in the middle of the pandemic who until recently never met anybody in the company except on a screen. Cultivating that connection so that people really feel a part of something bigger than just their screen is something that we knew was not happening as well in the virtual world and we want to find a balance to provide flexibility and create connection.'

How did you make sure that the people you hired during the pandemic could become engaged with the company and its culture?
'The acceleration of digital trends – of being able to work virtually and collaborate differently – helped in terms of engaging people who were joining our organization. We saw the birth of virtual social events, and of check-ins to see how things were going. We have evolved our onboarding program to engage better virtually.
It really put the emphasis on new ways of working. What is it they say? "The evolution of technology has never been as fast as it is today, and it will never be as slow again as it is today." Things are going to continue to change. So, we have formed a couple of taskforces that are continuing to explore new ways of working. We have actually got one specifically focused on onboarding so we will keep making improvements. The question for us is: How are we compelling, even when we cannot be as personal? It is about creating the checkpoints, the opportunities for people to get to know others, and the social environment within teams, and encouraging them to bring people together... and it does not have to be strictly for business purposes. Create the opportunity just to get to know each other like you would around the coffee machine.'

So actually, what you are saying is that you are experimenting with possibilities not just to maintain relationships virtually, but to deepen them too.
'I think there really is an advantage to having people be together, to bring the expertise together to create products and deliver for customers. I still believe it is good for us as a company. But we also want all of our interactions to be as meaningful as they can be. So we will continue to explore how to make that more so, even in a virtual environment.'

In what ways have you helped your employees manage the coronavirus crisis?
'We revamped our whole wellbeing program for employees and their families, focusing on physical health, financial health, social interactions and mental health and putting together a lot of programming to help support people. We have now actually been able to leverage that same program to help manage some of the emotions and anxiety resulting from the war in Ukraine.'

What impact has this had on the engagement figures in the organization?
'Looking at the trends in the employee satisfaction category, companies that responded well to the pandemic and really tried hard to meet the needs of their employees all saw a spike in that first year in the pandemic. We were amongst those because we were trying to be very robust and respond to and anticipate what was needed. But that trend also moderated over the course of the following year, as fatigue set in. We saw that same trend. But our engagement remains very strong. We benchmark against a set of global companies, and we remain above the high-performing norm, so we are pretty pleased with that.'

I think we can conclude that Wolters Kluwer is successfully embracing the new way of working. But a lot of companies are still hesitant to give their employees freedom over their own schedule. What is your advice to them?
'There are a couple of things. There is the market pressure – how competitive are you? Of course, everybody needs to be thinking about that. But honestly, I think that is kind of the ticket to the 'cheap seats'. In my opinion, the bigger question is: Who do you want to be as an employer, and how do you want your employees to feel about working for your organization? It goes back to the idea that we have of creating a sense of belonging, where people really feel like they can be themselves, they are respected, and they can do their best work here. If that is your true north, then you free yourself up to think creatively about how to achieve that. Any hesitation on our part was really about making sure that we are doing things in the most meaningful way. So if that is the reason for the hesitation, I get that. Because one thing that we have learned, particularly being as global as we are, and considering the differences between countries and people's needs, is that you really do have to go through a process of asking people. And you have to listen to what they say, and then apply what you learn, and it's not going to be the same everywhere.
But if you are really focused on cultivating an environment where people want to be – not just because they need a job and they need to have a livelihood – but where people are really choosing to be, because they feel that they are connected to the organization, that will drive you to be open to thinking about ways to make sure that people feel that way. And that is what we are trying to do.'

Are there any other tips or takeaways that you would like to share?
'When I look back on the lessons that I have taken away from the pandemic, I would say: Prepare for the things that you never thought you would prepare for. You know, we did all the risk management planning – what would we do if there is a hurricane? What would we do if there is a cyber event? And then in the back of your mind, you are thinking there could be a global health event. But it seems so unlikely – until it happens.
The other thing is concerning the acceleration of digitalization, new ways of working and how we engage with each other – that change is going to continue. So even as we come out of the pandemic, continue to be forward-thinking about the fact that the pace of change is not going to slow down. As a company, that is what we need to do for our customers. But from where I sit in the organization, I see that we also need to be thinking about that for our employees. So even when we can pretty confidently say that Covid is in the rearview mirror, do not stop doing that. The pandemic was a call to action – not just to respond to it but to think creatively about how we can continue to evolve. It really says that we have got to constantly look at how to stay agile, because you never know what is coming.'

This article was published in Management Scope 06 2022.
This article was last changed on 29-06-2022