Michiel Hogerhuis (Accell): 'Actively Talk to Employees About Their Pension'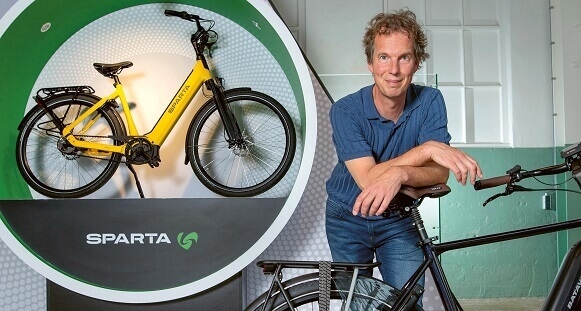 Michiel Hogerhuis, Group HR Director of Accell Group, talks about the European bicycle manufacturer's employment policy and HR's role in enhancing the synergy between teams in multiple countries. As soon as the pension reform is mentioned, he has a strong desire to get people to take action. 'The system change has such significant consequences that no one can afford not to engage with the subject.'
20 years ago, the Netherlands had a handful of major bicycle brands with familiar names such as Batavus, Gazelle, Sparta and Koga. Today, more than 200 brands are available internationally. This is one of the reasons for the European bicycle manufacturer Accell Group (which has a turnover of €1.4 billion and 3,500 employees in 15 countries) to further strengthen collaboration within the international organization. Michiel Hogerhuis started working as Change Manager for the company in 2018 and made the transition to Group HR Director a year ago. Hogerhuis firmly believes in the strength and diversity of local teams.
Rajish Sagoenie, Principal & Managing Director of Milliman Pensions Benelux, talked to Hogerhuis about the terms of employment policy and the role of HR in strengthening synergy between the various teams in multiple countries. Hint: at Accell, HR takes a cautious approach. The interview takes place on the second floor of Accell Group's experience center in Ede, which is located in the enormous 1922 factory hall of the former Dutch firm Nederlandse Kunstzijdefabriek ENKA (ENKA Artificial Silk factory). On the first floor, hundreds of bicycles and e-bikes by brands such as Batavus, Sparta, Koga, Van Nicholas, Haibike and Lapierre are ready to be tried out on a special track. Numerous bicycle enthusiasts are happy to make the most of this opportunity.

Michiel Hogerhuis does not consider himself a classically trained HR Director. Early on in his career, most of his roles – including at Fokker and Deloitte – focused on change management, which was his major in his Business Administration course. 'Ultimately, change is about people. From that change management role, I was heavily involved with what motivates people to take action and how you get them to take action. Taking on the HR role therefore felt like a logical next step. When I started working at Accell, the organization was in the process of reviewing its strategy. Part of that strategy involved using the diversity of people, brands, companies and factories even more effectively.'

How was this recalibration tackled?
'Accell Group is fully committed to increasing synergy by achieving more collaboration in the most effective areas, such as R&D and purchasing. Four years ago, HR started looking at what connects the various units within Accell. The units are mainly smaller companies, often originally family businesses with highly developed entrepreneurial skills.
From there, we progressed to 3,500 employees: We are a people company, so our HR vision is 'moving forward together'. There are hardly any machines at our production plants. It is all about passion, workmanship and craftsmanship. In the future there will be robots here and there, but here it is primarily people who make a difference.'

How is the HR position organized, with operations in 15 countries?
'Our HR motto is also derived from that focus on people: HR knows what motivates people to take action. And I mean that in two ways: In the first instance, literally getting moving, i.e. improving together, and figuratively in the sense of understanding the emotion that really motivates people.
An important pillar of this is that our HR professionals are aware of what is going on in the local business and also know the employees personally. This is one of the principles shared by all HR teams: The door is always open. This starting point goes way back, when many units were still small family businesses. That is why we opted for the 'lead global, win local' strategy. Playing on the strengths of the local family culture means that, for example, in Turkey, we organize many social activities, and in Hungary, Ukrainian flex workers are fully supported by the company.
Taking action – springing into action – also refers to the fact that all Accell units share the bicycle culture. In addition, the informal atmosphere is already embedded within our organization, and we are not very hierarchical. We safeguard this culture by clinging onto local freedom rather than introducing one big head office, for instance. That local character also applies to HR. Centrally, there is only one small team of four people, including myself.'

How do you view the role of HR within Accell?
'Our starting point is always the question of what people need in order to deliver top performance. I do not agree with the idea that people prefer not to change. The way in which changes are implemented can determine whether people do or do not want them. I myself have always looked for creative, effective solutions within my HR roles, such as bringing in the Netherlands Film Academy to teach storytelling to a Board of Directors facing change. Or, as is currently the case at Accell Western Europe, bringing in professional athletes to talk about what performance means. Often, performance is still primarily associated with hardcore training and work, but in recent years, professional sportsmanship has increasingly focused on the preconditions for individuals and teams to achieve top performance. In addition to good training and equipment, these preconditions include good nutrition, enough rest, a safe environment and data to help establish the correct strategy. That starting point differs greatly from trying to manage the Turkish production plant the Dutch way.
We also exchange a lot of best practices. For example, we have three paint shops that learn a lot from each other and work on standards together. In Turkey, we launched a welding course for women. We can use that experience and apply it in other countries. At our warehouse in Denmark, we have developed an app that allows employees to schedule their own working hours.'

Which challenges does the HR position within Accell currently face?
'As I mentioned, there is a lot of scope for local customization and development work. On the other hand, the HR role was often very operational in nature within the predominantly small companies. HR as a discipline could become more mature within our organization – we could, for example, structure facilities more effectively, such as the range of employee training options. This is something that all units are currently working on, and everyone can enjoy building on this together.
The informal culture that we have at present – with us, anything and everything is possible – means that we remain an attractive employer for young talented individuals, both now and in the near future. We can further improve and promote this. We could offer development programs in talent management, combined with a stay at a foreign branch. This would give an employee international experience, which also aligns with our culture. We have all the skills to build up a great career, and our task is to improve organization and visibility. At the moment, we are actively working on our succession planning: Where are potential successors to Factory Directors, for example, and to what extent are new skills required?'

You mention data as one of the pillars for performance. What is HR's role in terms of data?
'In that respect, I'm also thinking of examples related to professional sportsmanship – such as meticulous, short-cycle analysis and improving your strategy straight away. In the professional swimming pool in Eindhoven, for example, they measure how swimmers dive. Their dives are filmed and played back straight away, so that swimmers can constantly learn and improve. That can also be applied to a factory. Learning something from yesterday's work and improving the next day works much better than giving feedback on how things have gone once a month.
We are also working on standardizing HR applications and collecting and using data from periodic engagement surveys, for example. HR looks at employees' data and information needs. Of course there are KPIs, which you can use to monitor how things are going. But do employees also have the information they need in order to check that they are on track and make any necessary adjustments? Moreover, everyone wants to perform well. I am a big fan of institutes like Papendal, where everything is in place for individuals and teams to become successful and where young talented individuals living there temporarily can use the same facilities in order to learn.'

To what extent are you affected by the labor market shortages and the war for talent?
'When I think about what young people are looking for in a company these days, having a clear, recognizable purpose in place is an advantage. We already have that. Where we can still improve is being present on the labor market, optimizing onboarding, enhancing engagement by doing things such as taking employees to sports events more often and offering them lease bicycles internationally.
Although we do not have any problems in getting our staff to stay with us – this year we hired 60 people in the Netherlands and grew by 4.7% globally – it is also quite difficult for us to find data specialists and IT people. We try to solve this by bringing young talented individuals together and presenting them with problems through traineeships. E-commerce and marketing specialists are also relatively scarce on the labor market, but our well-known brands and products are appealing, so that is actually going quite well. In terms of technical intermediate vocational (MBO) students, we have sought collaboration with other companies and local education institutions in order to launch our own training courses.'

To what extent does Accell factor local preferences into terms of employment?
'In terms of engagement, differences in preferences mainly concern target groups. We do our best to factor this into our labor market communications as well. Production workers are slightly more interested in salary and a good team atmosphere than marketeers, for example, who look for more substantive challenges around the brand. There are also differences internationally, of course. In Turkey, for example, we focus on provisions that improve women's safety, such as organized transport to and from work. The teams within the mountain bike company really enjoy attending MTB events. This is slightly different for teams involved in Dutch cycling. We do not manage local differences in terms of employment very explicitly, and essentially everything is comparable.
Another important theme is ensuring a safe, inclusive, diverse working environment at all locations. Our organization already has a diverse structure. We have all the disciplines in the chain on board: from design to production for different types of bicycles and brands. Accell serves a wide variety of clients from different countries. Of course, there is still progress to be made when it comes to diversity of culture and gender within the organization's workforce, for example. I do not believe in targeted recruitment, but I do believe in providing good coaching and space for diverse talent. We do have a rule for all senior positions that if the pool of candidates is not diverse, the application process is terminated. It means that something about our approach is obviously wrong, because diversity and quality can be achieved for any given position. Recently, for example, we scrutinized our vacancy texts in that respect. Women generally recognize themselves less in classic words such as 'result-oriented', 'autonomous' and 'decisive', and more in terms such as 'committed' and in sentences that focus on behavior rather than character traits, such as 'you pursue your goals' or 'make the necessary decisions.''

The new pension system will be introduced in the Netherlands in 2023. What is HR doing in order to prepare both the organization and employees for this transition?
'A large proportion of our Dutch workforce is affiliated with the PME sectoral pension fund under the CLA. That is where the key changes will be made. We have already launched all sorts of initiatives for this group of employees, with an emphasis on striving for sustainable employability. Many of our employees are a bit older, which is why we have already set up the Generation Pact, offering employees aged 60 and over the opportunity to gradually reduce their working hours under attractive conditions in order to make space for younger employees. Accell has reduced the minimum age to 58 at its own expense.
We believe that we have a responsibility to organize good information sessions on the new pension system, so that employees can take responsibility for their own individual solutions. Unfortunately, the younger generation in particular is barely interested in this subject at all, at a time when it is more important than ever. We want employees to consult their pension environment more often and make active decisions. We also want managers to help raise awareness among employees.
We often remind our employees that anyone can turn to HR for a personal calculation and help with financial planning. The fact that our door is open and we know our employees well is extremely important at the moment, given the increased likelihood that employees run into financial difficulties. My tip for other CHROs? You need to take more initiative to actively talk to people, because we are on the brink of a drastic system change. I was not thinking about my pension when I was 25 either. But the times when you could afford not to think about it had already gone – and those times have now gone for good.'

This interview was published in Management Scope 08 2022.
This article was last changed on 28-09-2022