Mieke De Schepper: 'At Every Step I Ask Myself: What Am I Going To Learn?'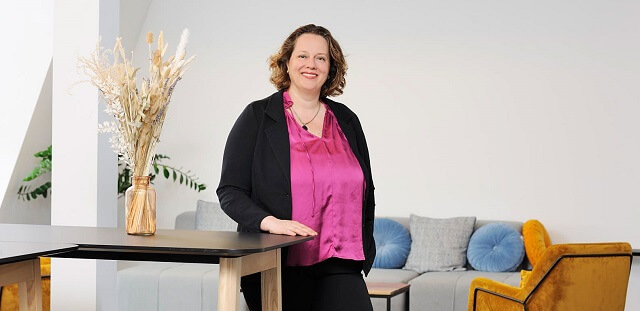 Mieke De Schepper was under the radar in the Netherlands for a long time. Until suddenly, to her own great surprise, she popped up as the new kid on the block in all kinds of corporate lists. Like in Management Scope's Next50 Board members earlier this year and now in the Top-100 Corporate Women. 'I was completely outside the Dutch world; I hardly had a network here.'
Until recently, De Schepper lived in Singapore, where she worked for the consumer division of electronics group Philips (she considers the ambisound soundbar 'her first child') and for travel platform Amadeus. After almost 18 years in Asia, she recently returned to Europe, with ambitions to broaden her horizons. Mieke De Schepper is now Chief Commercial Officer of review platform Trustpilot and a member of the Supervisory Board of meal delivery platform Just Eat Takeaway and hotel platform Trivago. Jurgen van Weegen of consulting firm Kearney speaks with De Schepper at Trustpilot's office in the heart of Amsterdam, from where the Benelux sales team operates. The offices overlook the courtyards of Keizersgracht and Herengracht and, in the distance, the Wester Tower. De Schepper herself, however, is not here often; she usually is at the offices in Copenhagen or London.
De Schepper is of Flemish descent but holds a Dutch passport. 'I grew up in Sint-Oedenrode, in North Brabant. My parents were both from Belgium. After their marriage, they moved to the Netherlands. My father was trained as a priest, he was in the seminary, but dropped out when he wanted to get married. He deliberately chose the Netherlands, where there was a slightly more liberal climate in the Roman Catholic Church, especially in the Diocese of Den Bosch where Bishop Bluyssen ruled at the time. My parents were very open-minded. Within the church they were in the ecumenical corner of the relatively progressive Eight May Movement. When I was young, I sometimes went along to meetings of that movement. I found it extremely interesting.'
Somewhere along the way you lost your Belgian nationality as nowadays you are Dutch?
'Yes, although it is not a very exciting story. I chose Dutch nationality for practical reasons. It turned out to be much easier to study abroad with a Dutch passport. Moreover, I was active in student politics at the time. I also secretly thought: if I ever go into politics again, Dutch politics will be more fun than Belgian politics. However, I definitely do not have that ambition anymore. Well, my head is Dutch, my heart is Belgian. Or let us call it Brabant.'

Still, you soon left Brabant.
'Yes, that is true. Sint Oedenrode is a small village. You can easily be an outsider there. We formed a somewhat distinct family. My father with his strange religion, my mother who taught music. We did not quite fit in. After high school I really wanted to leave.'

You wanted to discover the world?
'Definitely. After my studies in Delft, I applied to Harvard, but in the end, I chose INSEAD in Paris. Then I thought about making viticulture my profession and spent six months in Chile on a vineyard in the middle of nowhere. That was a fun time, but I soon found out that the wine world was not mine. It turned out it was mostly about relationships, marketing and sales and not so much about the product: the wine. The discussions were mostly about margins: can you deliver at 50 cents instead of 52. I did not find that very interesting. Which was a pity, because I love wine. By the way, I now buy that Chilean wine again at Gall & Gall.'

In the end, you spent a long time in Asia. Was that planned?
'No, it came my way. After spending time at McKinsey, I got in touch with Philips, a company I did not think I would ever work for. They offered me an interesting role in Singapore, in the audiovisual branch. I thought it would be fun to do that for a year or two. We ended up staying in Singapore for 18 years, ten of which were with Philips. I did the whole repositioning of the home theater surround sound portfolio there. I really see the Philips ambisound soundbar as my first child. I helped develop it: one of the first separate television speakers for a cinematic sound experience. I am still proud of that.
It was a wonderful process to lead: from product development and customer research to price positioning and go to market. I learnt enormously from especially the latter. Retailers turned out not to be arranged for our beautiful soundbar - they had their stores divided into TV and audio, into image and sound, and each division had its own buyers. While we wanted our audio device to be in the TV department... I learned that a fantastic product simply does not get off the ground if you do not find the right channels.'

Why did you leave Philips after ten years?
'It was time for something different, for new challenges. After Philips, I first worked at Philips Lighting in Singapore. There I made the switch from B2C to B2B. In the end, for me Lighting was too focused on the margins. There were also some organizational changes. I thought it was a bit of a 'man's world', and I did not get any energy from it anymore. Then it is time for you to leave. At the time, I was approached by travel platform Expedia with an interesting challenge. I had no experience in the hospitality industry, but I did have experience building teams. And that is what they were looking for: for someone who could build the team for Asia, with a clear leadership structure. Within two years we grew tremendously, with hundreds of people.'

Is working in Asia not incredibly complicated? It is a different world, what about the cultural differences? Was it manageable for you as a Western woman?
'There are cultural differences, especially in terms of hierarchical structures and in terms of communication. But in the end, I still find that in terms of motivation and interests, people do not differ significantly from each other. At Expedia, the leadership team had to be transformed into a team that could handle the rapidly growing organization. They did not have the right leaders in position to take the company to the next level. This is a difficult process, but ultimately no different or more complex in Asia than in other part of the world.
As a leader, you must above all be respectful to your people, communicate well. When I arrived in Asia, I was convinced that I had to adapt. I thought I had to be less direct. But I reverted from that. I think my directness and clarity in fact is one of my strengths. I started to explain: 'You may find me very direct,' I said, and 'You may find me very intimidating.' I explained why I acted in that way, not as a personal attack or insult but in the best interest of the team. This approach worked well for me in the end, mainly because it also allowed me to be vulnerable. I threw it open. And the fact is: I especially enjoy doing things with people. I think ultimately, that perhaps is really a different style than the typical male leadership style.'

You eventually delved further into the platform economy after Expedia, including at ticket and travel platform Amadeus. What did you learn there?
'Amadeus seemed right up my alley. They were looking for someone who could manage the online business and establish a new strategy and lead Asia as managing director. Plus achieve some transformation in the culture. Amadeus is still a young company, but it turned out to be a traditional company. There was too much looking backwards. That is the big difference between traditional and new companies. One looks mainly backward, the other forward. That has big implications, especially for speed of operations. In the platform and e-commerce business, you can do iterations quickly. They are extra data-driven and excel at test and learn. You work based on the information you have at the time; you are not tied down to the fixed patterns of long-term projects. At Expedia especially, they had a very fine balance. The direction was clear, but there was plenty of room for adjustments along the way.'

At some point you did make the choice to leave Asia behind and return to the Netherlands. Why?
'Those were mainly personal considerations. In principle, we had a great time in Singapore and did not necessarily need to return to the Netherlands, but several things came together. My parents got older, I wanted to see them more often and my youngest child needs some special care. Professionally, moreover, I was a bit at the end of my possibilities in Asia, or I really would have had to make the choice for an Asian company. I did not see that as a good idea. I am a little too European for that. I started looking around in Europe and Trustpilot finally appeared as the most interesting option.'

Why did you find Trustpilot interesting?
'First, because of Trustpilot's business model that appealed to me: a two sided platform where supply and demand meet. I believe in the company's proposition, and I see the consumer problem this company wants to solve. We are trying to create trust in a digital world, a world where it is difficult for customers to know exactly who they are dealing with in a transaction. We are trying to provide that certainty in a very transparent way. I find that great.'

At Trustpilot, you work together with the Danish founder and CEO, Peter Holten Mühlmann. That undoubtedly also creates a certain dynamic. What is your experience regarding this up to now?
'I consciously chose to work with this founder. In our conversations I really had the feeling that he wanted to introduce expertise and that he could use me to help his company move forward. He gives me all the space I need. I experience a lot of support from Peter. For example, I am now recruiting some key leaders for my team. I asked him if he wanted to be involved in the process, but he only wanted that if it would assist me. I found that a great starting point.'

After your return to the Netherlands, you also started working as a Supervisory Board member, including the Supervisory Board of Just Eat Takeaway. There you also had to deal with a leading founder, Jitse Groen.
'True. And at Trivago as well. That is indeed conspicuous, but it is also coincidental. I particularly wanted to broaden my horizons after I returned to Europe with several Supervisory Board memberships. It seemed a good idea to work in a supervisory role in addition to my executive role. Again, to develop myself and contribute in a different way. You get a look behind the scenes at other companies, see how they do things there. And I also thought I could contribute something with my international experience. I really am trying to add something.'

There clearly is an idea behind your career path?
'My motto is no guts, no glory. Ah, it is mostly hard work, a little luck and - not unimportantly - having a vision. Knowing where you want to go. I always had an ambition for myself. That helps in making certain choices.'

Can you articulate that ambition?
'Well, I would really like to lead a company one day. To really play the role of CEO, to have overall responsibility. I am in the end mainly a 'general manager'. I like the diversity of different subjects, the breadth. I like determining a strategic route and building a team. With every career step I take, I ask myself: what am I going to learn, how will this take me further? For example, with Trustpilot I have now chosen a relatively small company, where I learn about scale-ups and about working with a founder.'

How do you like the Netherlands so far?
'I love the Netherlands and I like it here just fine. Still, I feel more like a citizen of the world than specifically Dutch. I used to find it stuffy here. Of course, I am Dutch, I am proud of it, but strangely enough, I never quite used to belong. I wanted to leave, to spread my wings. I also ended up fitting in better in the international business world. There I felt much less restricted, more in place. I felt freer there, to be who I was. I still mostly have an international network. That is why I was so surprised to suddenly find myself in all kinds of Dutch lists. I was completely out of the Dutch world; I hardly had a network here. I am in the middle of my reintegration; I am still rebuilding my Dutch network.'

This interview was published in Management Scope 06 2023.
This article was last changed on 27-06-2023