Fundamental Questions on Future-Proof Business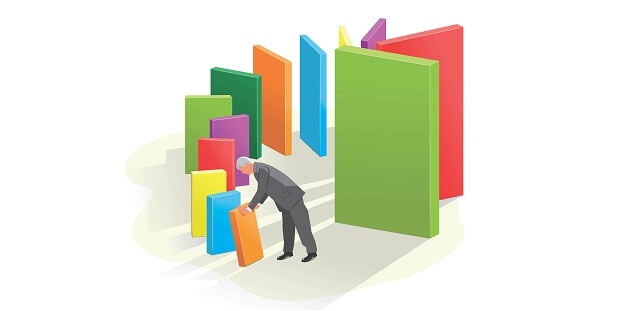 What should, want and can companies do effectively now in order to still be doing 'the right thing' five to ten years from now? This question is the focus of a new series by Management Scope in collaboration with Allen & Overy. Directors, entrepreneurs, representatives from civil society and other experts will have their say. Allen & Overy partners Hilde van der Baan and Gijs Linse kick off with an introductory essay on doing business now and in the future.
There have always been major transitions. At this moment, too, the world in which companies operate is changing rapidly. Consider the consequences of the recent pandemic, geopolitical tensions, sharply rising costs, ambitious climate goals and increased political, social, and legal expectations regarding corporate contributions. Executives need to deal with all these themes. They are playing chess on many, and interconnected, boards simultaneously.
One of the core qualities of leadership is being able to deal with complex and rapidly changing circumstances, and to navigate the organization through turbulent waters to a safe harbor. We want to know how directors can or should do this despite the unrelenting demands of the day – their opinions as well as the opinions of 'concerned' outsiders. What should, want and can managers do now which would proof to be 'the right thing' five to ten years from now? In other words, how do they try to make the right future-proof choices now?
The right compass
Breaking free of the unrelenting demands of the day is especially important in these times. Much more than in past decades, the business world is not only about what is technically possible or legally permissible, but about what organizations 'should do'. Moreover, choices that managers make now can come back to bite them in five or ten years. Not only is the environment in which companies operate changing rapidly and continually, so too does society's opinion on how companies should act in these changing circumstances. To avoid being called to account later for delaying necessary decisions or for 'wrong' decisions made five or ten years ago, they need to anticipate where the world is headed and have a vision of how they want to operate within it.
For this series, we zoom in on four themes that already are strategic priorities and that the 'company of the future' will also have to deal with: the position of the employee, the role of the shareholder, dilemmas around ESG goals and the role and responsibility in the value chain. It requires a good compass to still be in good standing on all these aspects five to ten years from now. A special challenge for directors, which we would like to discuss with them.
Theme 1: The position of the worker
You must know the past to understand the present. We like to stretch this statement by the late American astronomer Carl Sagan a bit and argue that you must know the present to understand the future. In this introductory essay, therefore, we would like to put the themes covered in this series into a brief (partly historical) perspective, starting with the position of the worker. The way in which 'employee-hood' and 'employer-hood' are defined is subject to major changes. Whereas in the past - certainly in certain sectors - it was by no means exceptional to work for the same 'boss' for a lifetime, this is now a rarity. Today, the relationship between employee and employer looks more like a form of partnership.
'Pay for work' is long since not always the priority for employees. They also expect employers to take into account their health, work-life balance, and personal development. That is fine and enriching, but against the background of a challenging labor market (aging, internationalization, hybrid working, scarcity...) this presents the employer with challenging dilemmas. For example, how to deal with the (sometimes directly opposing) interests of flexible workers and self-employed workers on the one hand and employees with permanent contracts on the other? How do you accommodate the desire of employees to continue to develop personally, in the knowledge that people tend to stay with one employer for shorter periods? Moreover, the answers to these questions depend in part on the composition of the workforce (white and/or blue collar, gender diversity, cultural background, age...).
In this series, we hope to discover what choices executives are already making to ensure that their companies remain attractive to the right employees in the long run. And how do they ensure that the qualities and skills of employees match the company of the future?
Theme 2: The role of the Shareholder
The pendulum of power between directors and shareholders historically swings back and forth. A few examples: the introduction of the statutory two-tier company around 1970 shifted the controlling power of shareholders to the supervisory board, as a response to the fact that legislators perceived a declining commitment to companies among (major) shareholders. The impending hostile takeover of AkzoNobel by U.S. competitor PPG Industries in 2017 led to a confrontation between directors (who wanted to remain independent) and activist shareholders (who pushed for a sale). In the process, the board - backed by public outrage over the planned takeover of this 'national heritage' - drew the longest straw. And the revised European Shareholders' Rights Directive, which came into force in 2019, ensured that the remuneration policy and report must be submitted for a vote at the annual general meeting of shareholders: a shift in favor of shareholders, in other words.
The (figurative) identity of the shareholder is also changing. Besides family-owned companies, with traditionally more long-term focus, private equity investors with generally relatively short investment terms have become an important party. In listed companies, the classic capital provider-shareholder has given way to investors who buy a small amount of property and hope to sell it again over time at a profit. Moreover, companies are increasingly confronted with activist investors who buy shares to allow them to actively intervene in a company's strategy. Not because they are intent on short-term profits, but to force a company to change course, for example about greening (as Follow This did with Shell). Shareholder activism, in a way, goes back to the origins of share ownership: providing venture capital to influence policy. At the same time, today it feels very different and regularly disrupts, rather than strengthens, the relationship of trust that directors should have with shareholders. We want to explore what the company should, want to and can be for its shareholders in future and, vice versa, expects from its shareholders.

Theme 3:Dilemmas around ESG goals
ESG and corporate social responsibility have undeniably become an inseparable part of entrepreneurship. Directors are expected to take a clear stance on social issues and the impact of their activities on the world around them and formulate strategy accordingly. What drives them can vary: from compelling laws and regulations to intrinsic motivation or simply commercial considerations. Certainly, the younger generations of customers and employees increasingly demand accountability in areas such as business models, environment, human rights, diversity and inclusiveness. These issues no longer enter the boardroom only through a (possible) customer or employee aspiration. Law and policy makers are also increasingly looking at (the role of) companies in this regard. Consider, for example, the Corporate Sustainability Due Diligence Directive. In addition, the pressure of actions by interest groups and the associated fear of lawsuits play a role, especially internationally. Think, for example, of the various lawsuits against (the directors of) Shell.
In this series, we particularly want to address the catch-22 around legalization. This risk is present not only for organizations where ESG is insufficient or insufficiently perceptible among the objectives. Organizations that make strong statements about sustainability, coupled with ambitious goals, can also face legal action if, for whatever reason, they do not (yet) realize those ambitions. In that sense, legalization can have the opposite effect and lead to less ambitious goals being set - for which the company can then be criticized: damned if you do and damned if you don't. How do executives deal with this reality? What price tag does this legalization carry and how can the company of the future deal with it?

Theme 4:Responsibility in the value chain
Chances are that our (grand)fathers had one or two electric razors throughout their entire lives, while we switch from electric to wet shaving and get new blades delivered by mail, directly from the manufacturer. It is a telling example of the - changed - value proposition that companies today (want to) offer their customers. It no longer is just about selling a product, but also about its use and the experience around it: the customer journey. At the same time, the responsibility of producers and sellers increases during and after the life cycle of products. Think of scope 3 emissions and right to repair.
We want to know how the company of the future sees its role and obligation in the value chain. In doing so, we want to focus primarily on the producer-consumer relationship. Do entrepreneurs embrace the trends toward chain responsibility, or do they believe that a company should primarily meet consumer demand? And how far does or should their effort go to push consumers in the right direction - even if it is not necessarily in their own interest? In other words, what does the company of the future want to, can and should be for its end users?

Fundamental questions about the enterprise of the future
In discussing these four themes, we ultimately hope to paint an inspiring picture of the 'enterprise of the future'. More fundamentally, we ask what business and entrepreneurship will mean in the future. Will the classic company with primarily a profit motive still exist? Will a company soon principally be a service hub with a loose-knit relationship with employees, suppliers, and customers? Will it perhaps be a social institution with a broad responsibility for people and society and/or with a role in the region where it is located or the country where the raw materials come from? And if business in the future involves so much more than just maximizing profits, who will (or especially) want to be a director? And what qualities will those leaders need?
The business of the future is being shaped now. That is why we will mainly debate with entrepreneurs and directors from different sectors and organizations who are, now ánd will be in the medium term, at the wheel of organizations. In addition, representatives of civil society and 'nonconformists' will have their say. We ask ourselves whether their visions differ greatly or whether, on the contrary, there is consensus on the direction, so the focus can be on how to achieve what needs to be done in a positive way.
Entrepreneurship is a balancing act and either side of the tightrope are people who want to give a nudge in one or another direction. We hope this series contributes to finding the way and provides some constructive tools for future-proof entrepreneurship.

Essay by Hilde van der Baan and Gijs Linse, partners at Allen & Overy Amsterdam. Published in Management Scope 04 2023.